If you've been looking for a better time to buy a VIVE, well, it doesn't get any better than this—but you'll have to act fast.
For a very limited time, you can save upto AED/SAR 500 on the VIVE Cosmos, and get free access to Wizards Enhanced Edition title!  VIVE Cosmos is the world's first VR system with a suite of versatile modular options. Go beyond just gaming. Elevate your VR experience, and enjoy a six-month subscription to VIVEPORT INFINITY. A best-in-class VR system now at its best price yet: AED/SAR 2799. Don't forget to use the promo code EIDCOSMOS upon your checkout.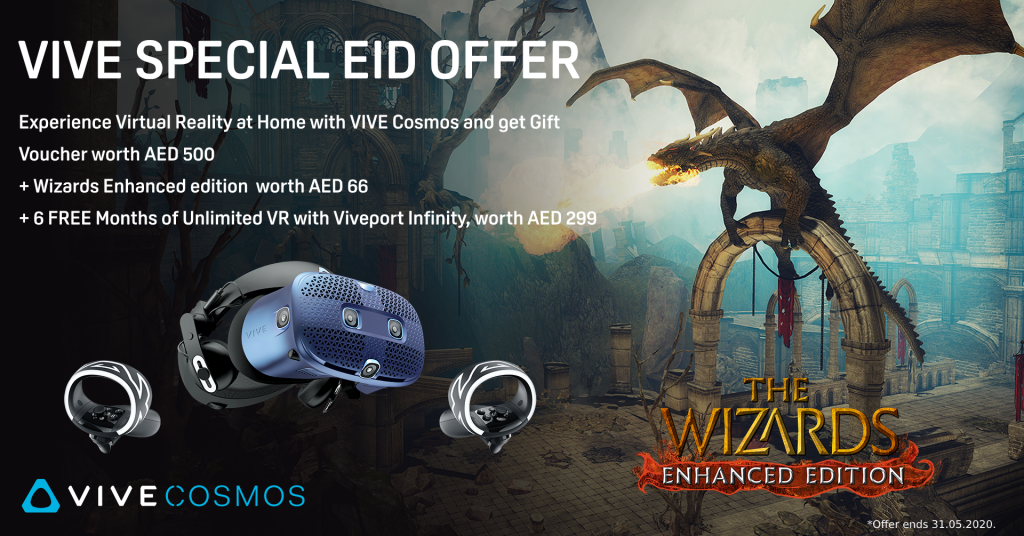 And that's not it. We have a killer deal for you with AED/SAR 500 off on VIVE Focus!. Save the hassle of connecting to your phone or computer, simply put on VIVE Focus and enter the world where you are free to wander and travel from the comfort of your home! Again, don't forget to use the promo code EIDFOCUS.
Remember: these deals won't last long. VIVE Eid Weekend begins on May 24, at 9:00am GST  and the offers end, May 31 at 11:59 PM GST—or while supplies last. Don't wait to see which comes first.
But wait, there's more good news! VIVEPORT Infinity is also offering loads of great deals this Eid, ensuring you have plenty of top-rated content to explore as soon as you set up your new VIVE.
Shop Now!