Knockout League is out now on Steam Early Access!
Vive Studios brings classic arcade-style boxing to VR with the early access launch of Knockout League. The title is developed by Grab Games, a studio founded by former Konami developers and comprising veterans with more than 10 years of game making experience. Knockout League is a fast-paced VR experience inspired by console fighting game favorites in both game play and visual style.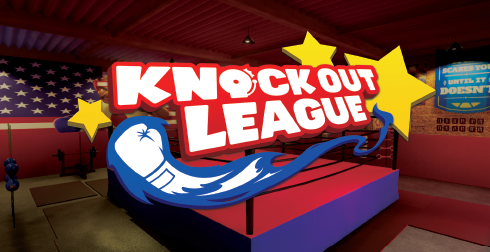 With intuitive gameplay that makes players use their body as they move, dodge and fight, Knockout League is a single-player boxing game built from the ground up for motion-control and VR. Players feel the thrill of accurate punches and movement as they stand literally toe-to-toe with fighters. Taking inspiration from classics in the genre, Knockout League features a colorful cast of characters, pitting players against foes ranging from classic boxers to fantastic creatures. In the early access version, players have a chance to experience the first four fighters in the game, each with a different fighting style. During early access, the game will also include a tutorial training mode to teach key game strategies along with mini-games such as speed bag to get players warmed up and ready to fight.
Vive Studios and Grab Games will continue to add content between now and the launch of the full version of Knockout League, expected in Q2 of 2017. In addition, Grab Games is planning to add compatibility for the recently announced Vive Tracker. The Vive Tracker enables developers to incorporate everyday objects into VR, building the foundation for the introduction of new accessories that can further enhance the most immersive VR experience available. If you're a developer, you can apply for a Vive Tracker here.