The future of sports entertainment looks bright with virtual reality.
This editorial is written by Felicia Miranda, a freelance technology journalist. Follow her on Twitter @FeliciaVagabond. We hope this editorial helps you find the best VR content available!
Sports have been around for centuries and continue to be immensely popular all over the world, so it's no surprise that different sports traveled off the field and into our homes in the form of video games. If you enjoy a good sports game or two, prepare to smash the competition with these incredible VR sports apps for the Vive!
---
Virtual Sports
Developer: Free Range Games
Available on Viveport, in Viveport Subscription and on Steam
If you play sports games online, then you're sure to love Virtual Sports. Not only is this tennis and ping-pong simulator great for newcomers with its easy controls and different modes, but it also allows players to participate in games with bots, friends, and online users through matchmaking. If you feel confident, you can also try your hand at competing in the different leagues.
There's plenty to enjoy about Virtual Sports. For one, there's a nice option to play tennis or ping-pong on Fun Mode, which isn't too easy but helps make games less stressful. There's also a Real Mode which uses lifelike physics and poses a nice challenge if I'm ever in the mood to step up my game. Overall, Virtual Sports is a must-have Vive game for sports enthusiasts who enjoy a competitive VR experience that's both realistic and immersive.
---
Cloudlands: VR Minigolf
Developer: Futuretown
Available on Viveport and in Viveport Subscription
If the weather's working against you or your favorite mini golf joint is closed, Futuretown's mini golf simulation experience is a great substitute for the real thing. With a huge course and over 18 challenging holes, you're sure to fulfill that urge to work on your swing and whoop a couple friends in a friendly game or two. The best part? VR Minigolf means you can play anytime without having to step foot outside of the house. Minigolf in my jammies? Yes, please!
Unlike traditional golf games that use complicated meters for putting balls, Cloudlands: VR Minigolf uses virtual reality to take it a step further. My favorite feature is the ability to use my Vive controller as a virtual club, playing mini golf exactly as I would in real life. If you find the single player course is too easy, then all you have to do is hop into the course editor where you can build, share, and play your own mini golf courses. I love to get crazy with it and really put my skills to the test!
---
First Person Tennis
Developer: Mikori Games
Available on Viveport
Tired of heading out to the tennis court only to find that it's already occupied? If so, then First Person Tennis is just the thing you need for your Vive app library.
Controls are simple and use your Vive controller as a racket, which lets you volley, lob, add topspin, and backspin; there's also support for controllers and keyboard.
I love that you can play on a variety of courts. If I'm feeling outdoorsy, then I'll opt for playing on the grass or clay court. If I want to simulate a gym experience and really get into it, then I'm playing indoors. There's even the option to participate in ranked tournaments. My only gripe is that there are no female character customization options. Hopefully, the developers will include that soon.
---
SportsBar VR
Developer: Cherry Pop Games, Perilous Orbit
Available on Steam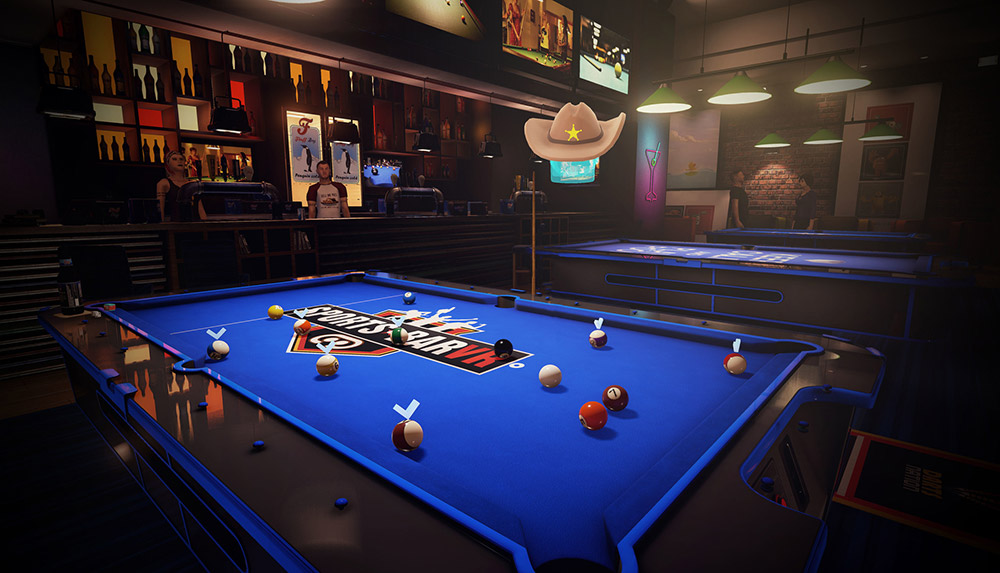 Previous players of Pool Nation VR will be excited to hear that the developers upgraded the game to include an entire Sports Bar! You can still enjoy a stunningly realistic game of pool, but now you can also enjoy a variety of other games such as darts, air hockey, chess, and much more.
This isn't just a virtual reality experience where you play games. It's an all-encompassing trip to a bar where you can customize your own avatar, show up with some online friends, put on some tunes, and pretty much do whatever you want. If your pals aren't around, then you can play a game against the AI and hone your skills.
My favorite part about SportsBar VR is definitely the wide range of games and the ability it has to be a unique experience every time. Sometimes I want to play some pool, and other times I'm just hanging out with friends and being silly. It's the ultimate virtual sports bar experience!
---
Virtually Live Presents Formula E Season Highlights
Developer: Virtually Live
Available on Viveport
Fans of the FIA Formula E Championship can now get a full-on street racing VR experience with Virtually Live's Formula E Season Highlights. You can browse Season 2 race highlights and experience the future of televised sports.
I couldn't help but feel my own adrenaline pump as it integrated television broadcasts, in-car driver audio, and recordings of the live commentary during the race. I also loved having a choice where I could watch, whether it be the best seat in the crowd or as a passenger in a driver's car!
Virtually Live's Formula E Season Highlights uses a variety of elements to create an excellent VR experience while enjoying your favorite sport. The best part is that you don't have to play alone – you can invite your friends, family, and fellow street racing fans to the event with you!
---
Virtual Sports and Cloudlands: VR Minigolf are available in Viveport, and as part of Viveport Subscription. First Person Tennis and Virtually Live Presents Formula E Season Highlights are available on Viveport. SportsBar VR is on Steam.