Being a mighty combination of interactive, engaging, and visually appealing experience, virtual reality games bring the 3D characters to life. Virtual Reality spreads its wings to control the game development industry with HTC Vive. As it is expected, the size of the VR game development market will be worth $23 billion by the end of this decade: so, now is a best time to invest in Virtual Reality games. Game Cooks helps players feel everything in reality, providing the development of virtual reality games of any complexity for HTC VIVE and mobile platforms as well.They are also one of the 6 finalists to compete in the VR and Beyond challenge taking place in Dubai. 
What does Game Cooks do?
We are an independent game development studio based in Beirut, lebanon and san Francisco. Our studio is made-up of passionate, creative and talented individuals creating games to engage and ever-expanding audience. Today, Game Cooks creates titles for mobile and emerging VR gaming platform!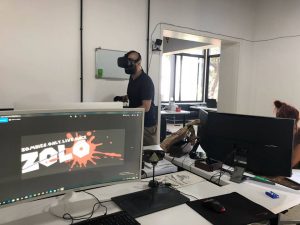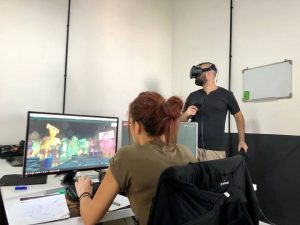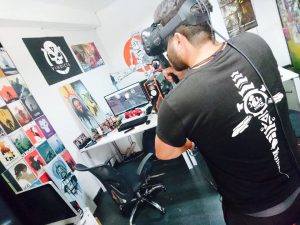 Great! What are your top 3 reasons for choosing HTC VIVE?
The top 3 reasons for choosing HTC VIVE for us will be:
Greater VR Space. The HTC Vive is meant to be a full immersion machine. The VR space of the Vive opens up to a 15ft by 15ft room. This means that you can get up and walk around virtual space with the Vive and provides a better gaming experience. This, along with the Vive's precise motions controls, allows you to jump around while playing.
Front-Facing Camera. The Vive system uses a front-facing camera on the headset. This helps us to produce an outline of the real world space.
HTC Vive integrates your VR experience into your real life. You can connect it to your phone via Bluetooth to allow you to listen to your messages. Or you can answer your calls in VR space. You can pause your game and use its front facing camera to use your PC without taking your headset off. The Vive has a lot of features that take your real life into account, and that's all part of its design philosophy which centers around being an immersion device and a gateway to VR, rather than just another way to play video games.
How did it all start? What's the road ahead for Game Cooks?
Game Cooks was founded in 2012 in Beirut and was born out of a desire to build a game development scene in the Middle East where there was close to none at the time.The studio went on to launch 14 international mobile game titles on the iTunes and Google Play store before deciding to make a jump into VR, in early 2016 after returning from an eye-opening trip to GDC in San Francisco. Since then, we have launched HOVR, a 3rd person racing mobile VR game for the Samsung Gear VR. Most recently VINDICTA – a first person shooter for the HTC Vive available in early access on SteamVR.
Tell us more about VINDICTA? 
The team comprises of 10 game-passionate and dedicated team members at that time who happen to be big fans of FPS games. This is what led us to create VINDICTA in the first place. This title represents for us the kind of shooter game we want to experience in virtual reality! VINDICTA is a fun VR campaign shooter that will get you running, crawling, hiding and even climbing as you infiltrate the fortified UB Industries facility and kill any robot that stands in your way.
We've implemented arm-swinging locomotion, a way of movement that sees you swinging your arms to move inside the game.This method feels like a much more natural way of moving in VR. The player can also select trackpad locomotion. From The Lab to the Sewers and beyond the player, armed with a variety of weapons, will be up against robots of all shapes and sizes that get increasingly difficult to destroy. The game currently has five levels of gameplay and will be going through its first update by next week, which will include new content, attack weapons, enemies and a total of 8 – 10 hours of pure uninterrupted and immersive VR shooter fun.
How does the market for VR look like to Game Cooks?
The VR market looks very promising on multiple levels. It has opened many dimensions with respect to experiences that not everyone can create. For enterprise purposes for example showcase, training, simulations and education and finally for gaming.