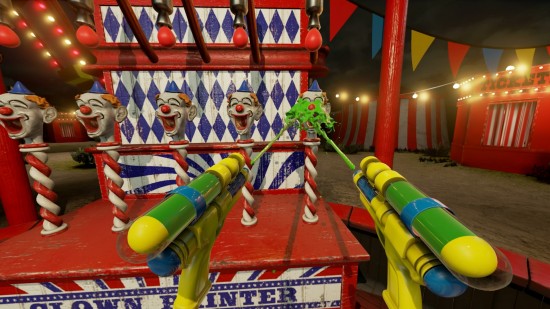 Get ready to step right up to VR Funhouse from Nvidia, and enter a virtual carnival full of fun and games. VR Funhouse is available today, for free, on Steam! VR Funhouse combines virtual reality, cutting-edge NVIDIA VRWorks graphics, and advanced NVIDIA GameWorks effects to deliver a new level of interactive gameplay and immersion.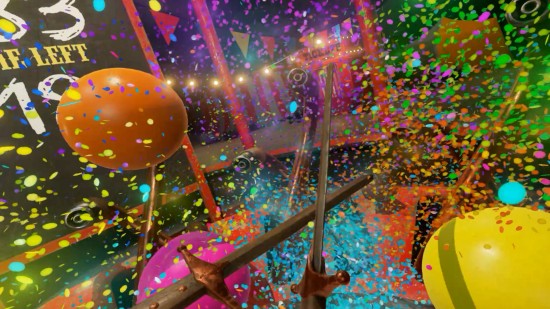 VR Funhouse features 7 mini-games set in an incredibly beautiful and engaging virtual carnival environment. Test your skill while shooting targets with a pair of pistols at the shooting gallery or take aim at moving targets shot from a skeet cannon. These games feature PhysX which generates pervasive destruction which lets you see your impact on the environment. Splatter clowns with squirt guns and green goo or break out a bow and fiery arrows to shoot targets up in flames.  These games feature the NVIDIA FleX and Flow technologies: Cloth, Fluids, and Fire.  Cloth features remarkably realistic curtains and streamers that mirror their real world counterparts.  Fluids demonstrate realistic liquid when players blast a clown with goo.  Flow enables realistic, volumetric fire simulation when you light your arrow on fire and shoot it from your bow.  Mole Boxing and Whack-A- Mole features zany, smiley moles.  You can't wait to knock'em silly.   These games showcase NVIDIA HairWorks, which simulate and render realistic hair and fur.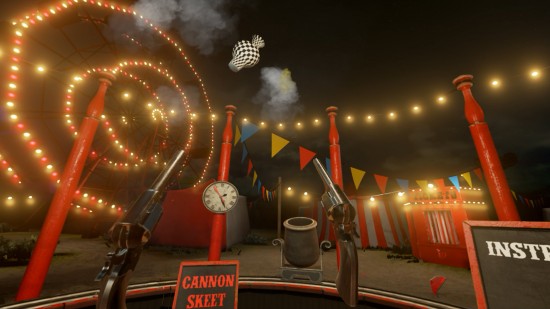 VR Funhouse takes advantage of advanced NVIDIA VRWorks graphics features to improve performance and maximize image quality. VR SLI enables two GPUs to work in parallel to render graphics, with one GPU rendering the right eye and one GPU rendering the left eye.  Combined with a 3rd GPU for PhysX, VR Funhouse brings both amazing graphics and physics fun. VRWorks Multi-res Shading speeds up performance in VR Funhouse by intelligently rendering full detail only where your eyes can see it.
 VR Funhouse is compatible only with select GeForce GTX Graphics cards and HTC Vive headsets. Please see below for recommended configurations per quality setting:
GPU
Low Graphics Setting

GeForce GTX 1060
GeForce GTX 980Ti
GeForce GTX TITAN X
GeFrorce GTX 1070

Medium Graphics Setting
High Graphics Setting

One dedicated GPU for Graphics:

GeForce GTX 1080 or greater
GeForce GTX 980Ti in SLI or greater

Plus a dedicated GPU for PhysX:

GeForce GTX 980Ti or greater
CPU
Intel Core i7 4790 or higher
OS: Windows 7 or higher
RAM: 5GB or higher