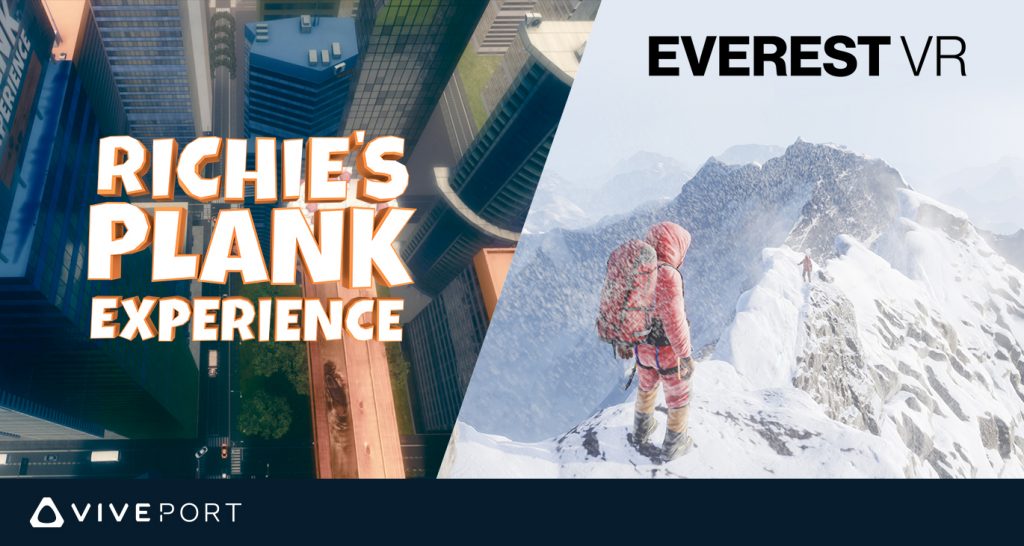 In the market for a new HTC VIVE?  Starting today, we're doubling the content titles included with every Vive purchase.
For a limited time, all new Vive purchases will include voucher codes for four popular Vive titles:
Zombie Training Simulator
The Gallery – Episode 1: Call of the Starseed
Everest VR
Richie's Plank Experience
That's over $75 of VR content out of the gate with Vive!
Everest VR and Richie's Plank Experience are joining the current Vive content bundle and will be available through digital redemption on Viveport, the app store for VR.   Our new redemption platform that adds Viveport support, in addition to Steam, will enable us to continually and dynamically update the content bundles for Vive, ensuring the best content is readily available to new Vive owners.
Experience what it feels like to climb Mount Everest in a series of first person challenges as you strive to reach the top of the world. Incomparable visual fidelity combine with player agency in a VR journey that feels both real and emotionally stunning.  Step into a first-person, photo-realistic experience like no other, as you join an expedition to reach the summit of Mount Everest.

About Richie's Plank Experience

Are you afraid of heights?   Take an elevator to Richie's plank that's sits 80 floors above the ground, then dare to walk to the end!   Customize the settings to add a physical plank to your playing space!  Richie's Plank Experience was made to demonstrate virtual reality to friends and family.