Vive jumps on Steam Summer Sale with discounts on Vive hardware and software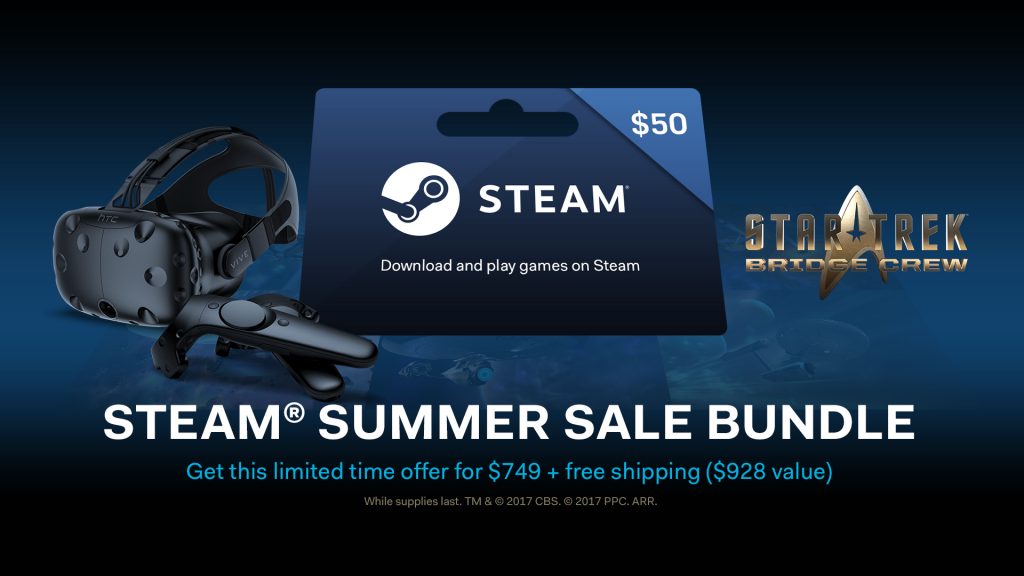 Ready for a Summer of VR?
Vive is joining in on the annual Steam® Summer Sale with a bundle to remember. With every HTC VIVE purchase, discounted to $749.99 for the Summer Sale, all new Vive customers will also receive a $50 Steam gift card that can be redeemed and used immediately for the Summer Sale. The discount and bundled gift card are available through Vive.com (with free shipping!) and run for the duration of the Steam Summer Sale, starting 10 a.m. PT on June 22 and running through 10 a.m. PT on July 5.
In addition to the Steam gift card, all customers will continue to receive bundled copies of Star Trek: Bridge Crew, Richie's Plank Experience, Everest VR, and one free month of Viveport Subscription.
And to further build out your VR picnic basket, Vive Studios titles will also be marked down by as much as 75%:
Virtual Sports – 75% off ($19.99 -> $4.99)
Arcade Saga- 75% off ($19.99 -> $4.99)
Remembering Pearl Harbor – 75% off ($9.99 ->$2.49)
Knockout League – 40% off ($19.99 -> $11.99)
MakeVR – 75% off ($19.99 -> $4.99)

Want to know more about the Steam Summer sale? Check out TechRadar's great wrap-up.
---