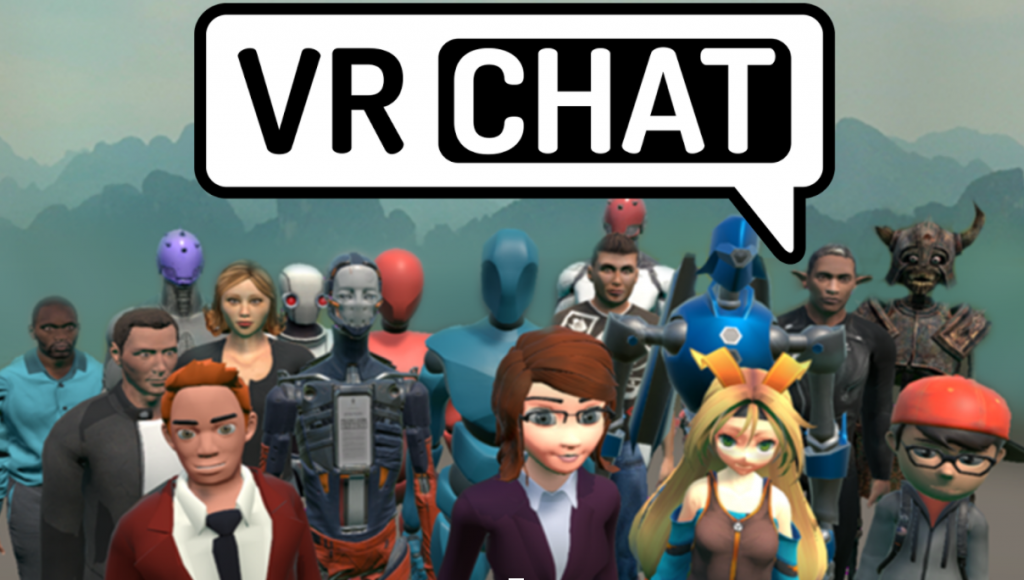 The VRChat team is proud to announce that we are joining forces with HTC Vive as a key investor and strategic partner. HTC leads VRChat's $4,000,000 Series A investment round, alongside Brightstone VC, GVR Fund and Rothenberg Ventures.
"Our goal is to enable anybody to create their own social VR experiences. Partnering with HTC gets us that much closer to achieving that, and driving social experiences for VR forward."
-Graham Gaylor, CEO
HTC Vive's investment in VRChat to power the future of the metaverse, both in the consumer and enterprise space, will enable us to further support our growing community. Additionally, the recent Vive price reduction will give more people the opportunity to experience VR and jump into VRChat, which launches today on Viveport.
Our Creative Community
Every time you set foot into VRChat a different experience awaits. The team at VRChat has always been about creating fun social VR worlds, avatars, and experiences to share with friends. By leveraging the power of Unity, our community has already brought us hundreds of wild and wonderful worlds, games and events. There are even some recreations of real world locations.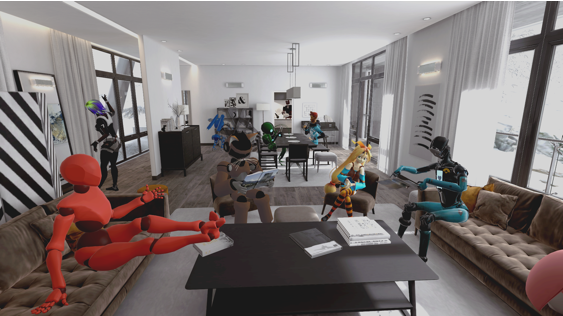 "Dinner party at my house in the clouds"
Our community has also brought in thousands of different avatars, ranging from the normal to the truly exotic. It's not uncommon to walk into the hub, our central meeting spot, and see something incredible like a picture frame with an avatar popping out or someone wearing a virtual Vive headset from inside VR.
Pioneering a VR Workplace
We like to do things a bit differently here at VRChat. Our team is completely remote, working from all over the world. The virtual world is our office. We do our meetings from inside VRChat, and most of our team members came from the community. For many of us, the first time meeting each other was at a real world event despite years working together in VR. To create the best Social VR experience, you have to be immersed in it, and that's what we do at VRChat.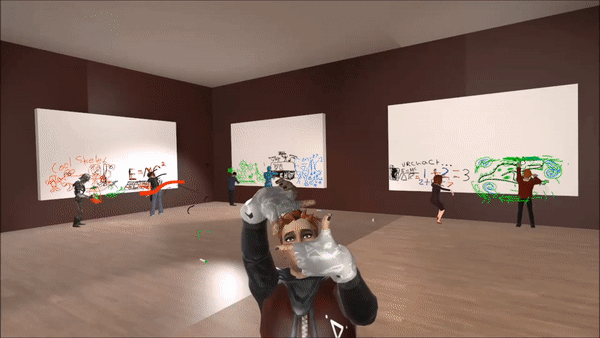 "Living the future – working together in VR"
"Not since the early Blizzard days have I experienced the right mix of passion, talent and magic on a project. Now that HTC Vive is part of the VRChat dream I foresee the making of something truly epic!"
-Ron Millar, Chief Creative Officer, VRChat
Amazed to Involved
People come into VRChat for the first time and are astonished. They make friends, explore worlds and play games like Capture the Flag, then quickly become part of our welcoming and helpful community. Shortly after, those same people are diving into Unity3D for the first time, learning how to build their own worlds and avatars. All after just one visit to VRChat!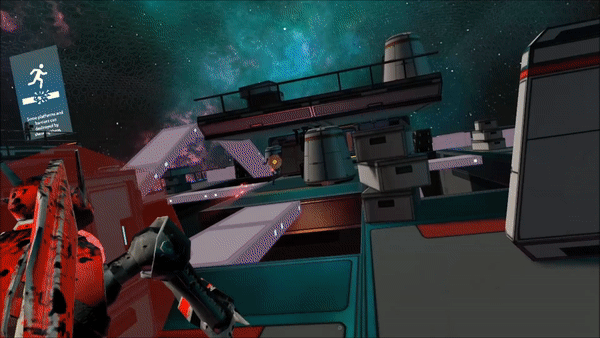 "Capture the flag with friends!"
The First VR Pub
A friend at a dinner party asked me what the "Killer App" of VR is. I replied by asking what the killer app of real-reality is? The answer for me was a party like this one and getting together with friends. This is why the social aspect of VRChat is so compelling.
-Jesse, CTO, VRChat
One wonderful world in VRChat is The Great Pug. Created by Owlboy and staffed by Zarniwoop & Romthirty, it's a great example of a social establishment in VR that has become its own landmark.  Whether it's karaoke, one of the many social events by Laozi, who also runs his own custom built space station, or a music performance by Mckmuze,there's always something going on at The Pug.  Even on a quiet night, you can find people hanging out and socializing in The Pug.  It's become the "Cheers" of VRChat.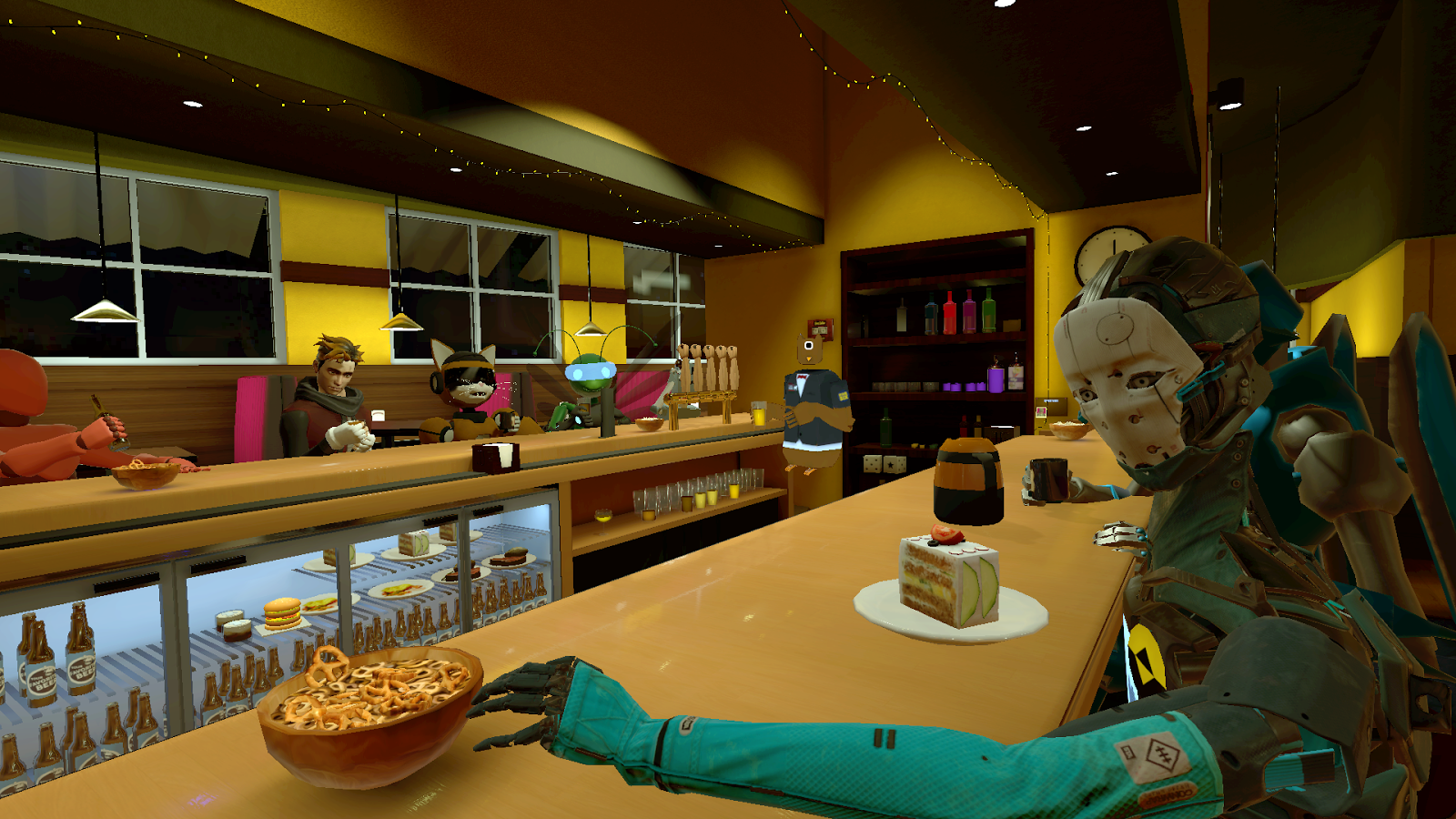 "Time to unwind at The Great Pug"
"When I think of the future of Social VR, it's about experiencing both the ordinary and extraordinary in new and exciting ways with others. You haven't truly lived until you spent St. Patrick's Day hanging out dancing with a walking four-leaf clover while being served drinks by a talking owl. I could write a small novel on all the unbelievable experiences I've had in VRChat."
-VRPill, Marketing, Community Manager
Community Driven Events
There are already many community events in VRChat with more popping up all the time. Naticus hosts a bi-weekly trivia game show called "What's in the Box", voiced by Reverend Kyle. Gunter has been running the longest running talk show in VR, "Gunter's Universe". There's even events like a weekly squatting class in a virtual gym with Ghoster, Doublegoose, and sometimes if the planets align, Darren. "Endgame" by Nomono, Poplopo, and Psych is an audience focused talk show that discusses various real world topics.  GM3 curates a monthly art show coined "The Infinity Art Gallery" with a different theme every month & PK has recently worked with well known artist Beeple to put together a huge world design competition, "Be That Little Dude."  There are numerous events that are added all the time and can be found on our event calendar.
Powered by Unity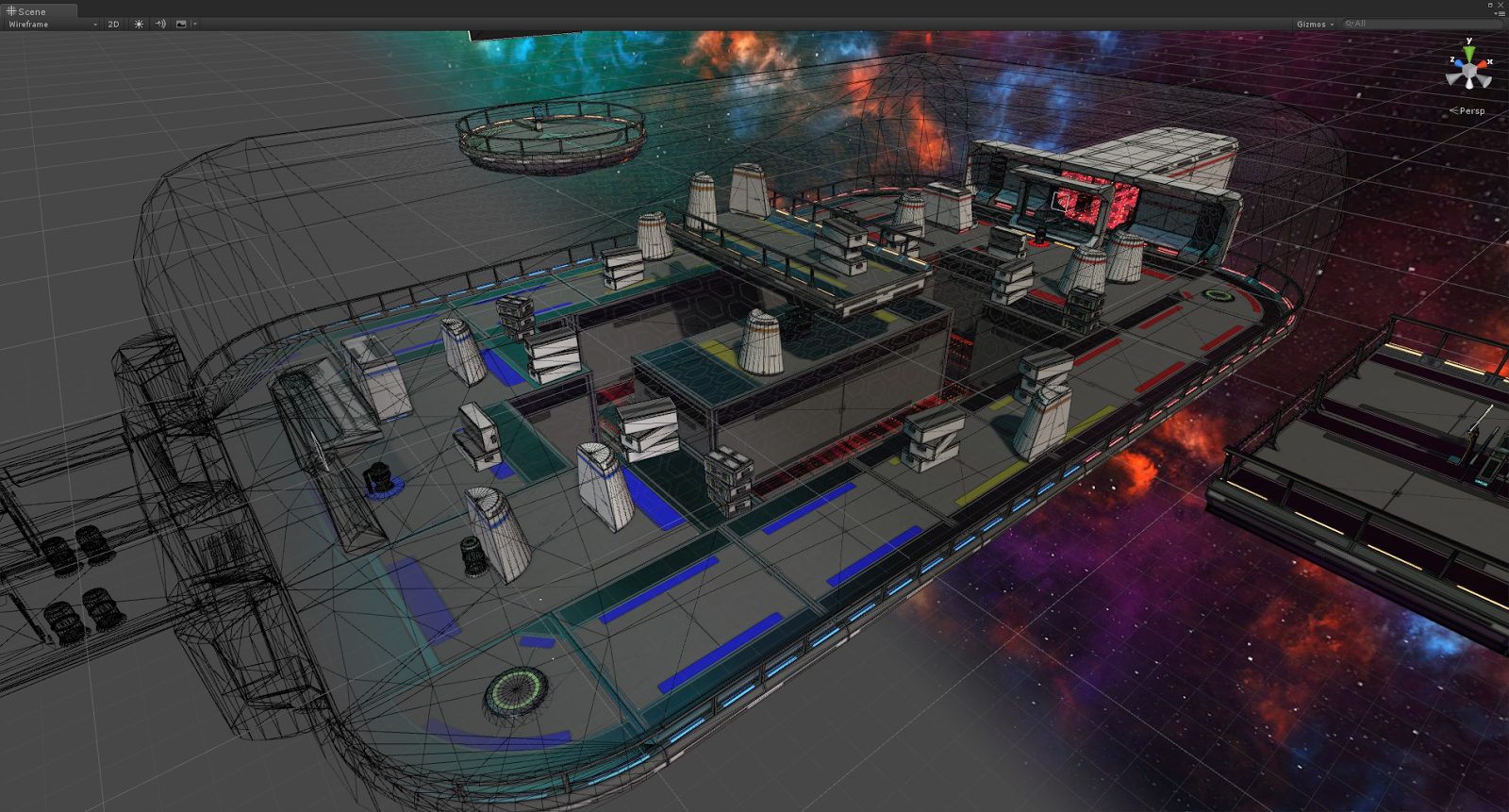 "Use Unity and our SDK to add interaction"
VRChat is based on the popular Unity game engine, largely in part because it's a widely adopted game development tool and they have made it a point to focus major efforts on VR. Avatars and environments on the Unity Store can be purchased, then quickly brought into VRChat and made social using our SDK.
Working with our Community to Plan the Future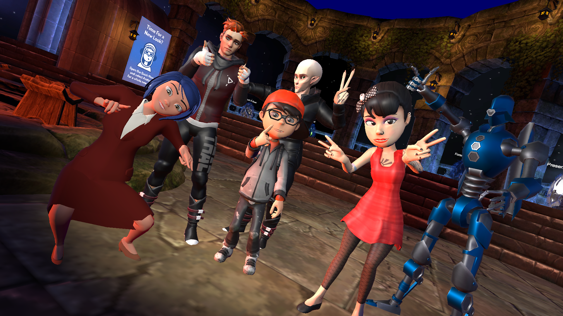 "The VRChat community is creative and friendly"
Our community is crucial in crafting our future vision for VRChat, and they've already supplied us with endless quality feedback via our Canny portal and #feature-requests channel on Discord. This has filtered into our design process on important elements. One example is the design of the new starting area, which we call "the HUB". It is built around supporting and promoting the community's creations. It also includes highlighting community events and providing more information for newcomers.
Users have already been inventive adding scripting and features to their worlds, avatars and events. Soon we plan on making that much more powerful by adding visual scripting support. The community has been having a blast playing Battle Discs, Steel 'n' Gold, Bowling, and all of our other games in VRChat. The next step is going to be giving them the power to take these game systems and create their own versions. We've also been spending some of our time exploring fun new features that may make it to the community soon such as driving vehicles, persistence and in-game creation.
What's next?
Between our team, our community and the good folks at HTC Vive we've got a big 'ol goody bag of cool new things just waiting to be discovered. We're also working on a big list of updates to improve on what's already there. Thanks everyone for your feedback and your patience. We look forward to sharing more soon. Until then we hope you all enjoy VRChat. See you in the metaverse!
Want to get involved in the community? Join our Discord. Want to send us a note? Contact us at hello@vrchat.com.