With virtual reality, you can travel the world without leaving your home. Beyond Tokyo will take you to Japan's most famous city and, of course, beyond.
Hello there! Please introduce yourselves.
Vicky Shum: I'm Vicky Shum, and I'm Co-Producer of Beyond Tokyo.
Zach Osumi: I'm Beyond Tokyo Project Director, Digital Design Lab at ANA.
Logan Dwight: I'm co-founder of The Soap Collective, and Creative Director of Beyond Tokyo.
There are multiple companies involved here; how do they fit together?
Vicky: I am a Venture Partner at World Innovation Lab, a VC and corporate innovation firm based in US and Japan. In addition to venture investment, we work with leading corporations on innovation initiatives, often via partnerships with startup teams in emerging tech. Beyond Tokyo is one of such projects we're pursuing in collaboration with All Nippon Airways (ANA) and The Soap Collective, with the mission of connecting people from different places and cultures in an innovative way.
Give us your overview of Beyond Tokyo.
Vicky: Beyond Tokyo is a virtual reality travel experience in Tokyo, Japan, showcasing different points of interest around the city with 360 videos, audio narration, photos, and interactive storytelling. You can freely explore the neighborhood of Shibuya, and pick and choose what to see. For example, you could stand right in the middle of Shibuya Crossing and experience the crazy Scramble. You could join locals and unwind at a local izakaya restaurant. You could check out the bustling and fashionable Harajuku, and also stop by a Shinto shrine and feel the Zen.
Logan: At the heart of the experience is an interactive recreation of the famous story of Hachi, Japan's most loyal dog. We wanted to capture a piece of Japanese culture/history that would emotionally resonate with people of all ages.
Vicky: Indeed! Beyond Tokyo is a family-friendly travel and educational VR experience for all ages, and for anyone who want to travel to Japan or simply learn about new cultures.
Zach: Right. At ANA, we are all about connecting people. We want to find new ways to connect people beyond our core airline business, and to encourage more people to travel the world. Virtual reality presents unprecedented opportunities to connect people from different places and backgrounds, something that's all the more important today. So we challenged ourselves to create this new kind of travel experience, using high quality VR, to encourage more people around the world to experience Japan.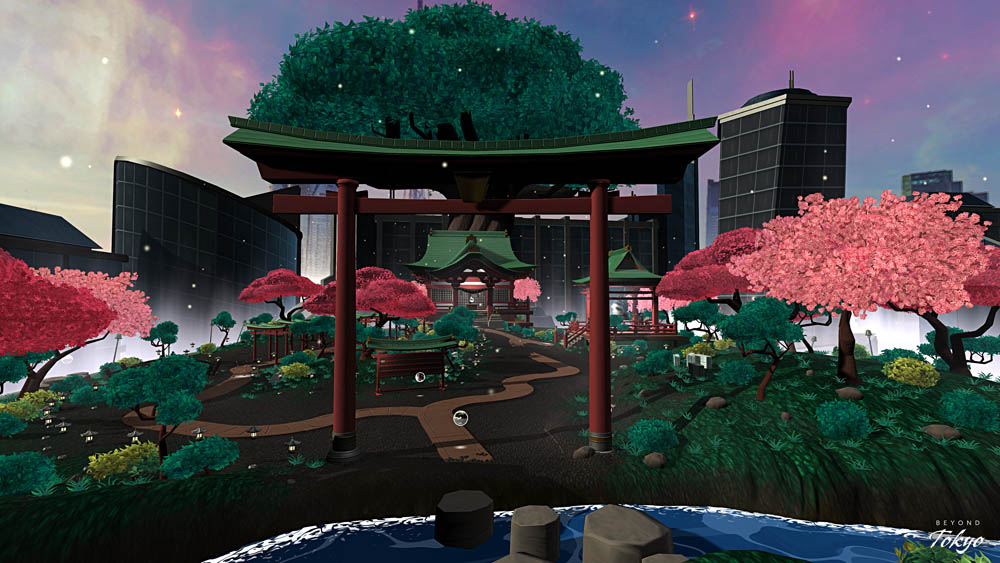 Is Beyond Tokyo solely a 360 degree movie experience, or are there interactive sequences?
Logan: When we set out to create Beyond Tokyo, we wanted to do something new and different. Not just 360 videos, not just an interactive linear narrative, and not just a rendered interactive experience – but all of the the above. Our goal was to merge the capabilities of a multi-media education experience with the fun engaging adventure of a game.
Vicky: Exactly. In defining this new "genre" of VR Travel, we've done a ton of user testing and iterating to find out what's fun and engaging to people. And what we learned is that, when people travel in real life, they want to freely explore an area, and pick and choose what to explore further. And they want the same when they travel virtually, and in a fun and user-friendly way. So we're letting users freely explore, see what places look like in reality, learn more via fun facts if they feel inclined, and even "experience" stories that have deep meanings about the culture.
Where can you visit around Tokyo, and we expect, beyond?
Vicky: Quite a number of places – some popular, such as Shibuya Crossing, Hachiko Statue, Harajuku, even Meiji Shrine, and some off-the-beaten path, such as a "self-fishing" sushi place, "Kaze no Denwa" ("Wind Phone"). We want to "go beyond" the typical hotspots, to also reveal what is authentic about Japan – how locals live, off-the-beaten path places that have deep meaning to the people, and amazing stories about what matters most to the people, about the very essence of the culture.
Zach: The mention about the "Wind Phone" is a good example of "going beyond". A true story – a Japanese man in Otsuchi Japan lost his cousin in 2010, and decided to build a glass-paneled phone booth in his windy hilltop garden, with a disconnected rotary phone inside for "communicating" with his lost relative to help him grief. When the tsunami hit the area a year later taking many lives, he opened up this "wind phone" to anyone who wanted to do the same – to "communicate" with their lost loved ones. Since then, tens of thousands have made the pilgrimage to pay homage. By the way, NHK did a great documentary on it, and it's also featured in This American Life, if anyone is interested.
Yes, it's a sad story. But we really want to share stories like this because it says so much about the Japanese culture, and more importantly, about humanity in general. It's about the quiet resilience of the people, about the importance of spirituality in the culture. Most importantly, it's about how everyone of us is human and is connected with the same grief, same healing, same hope.
Speaking of iconic stories about Japan – Hachi the Dog… what's his story?
Logan: We wanted to tell a story that was emotionally gripping and taught important principles about Japanese culture. The story of Hachi is iconic, one of the most famous real-life stories in Japan today. There is even a statue of him in Shibuya! He belonged to Professor Ueno, who taught at Tokyo University. Every day, Hachi would follow the Professor to the train station, where he would wait patiently until the evening when the Professor would return home.
One day, Professor Ueno suffered a cerebral hemorrhage and passed away at work. He never returned home, but Hachi still waited for him. For nearly 10 years, rain or shine, Hachi waited for the Professor outside the train station. When he finally passed away, he had become famous as Japan's most loyal dog.
We felt this story was powerful and also said a lot about Japanese values. To have shown such loyalty and honor, that is one of the greatest expressions of friendship and love.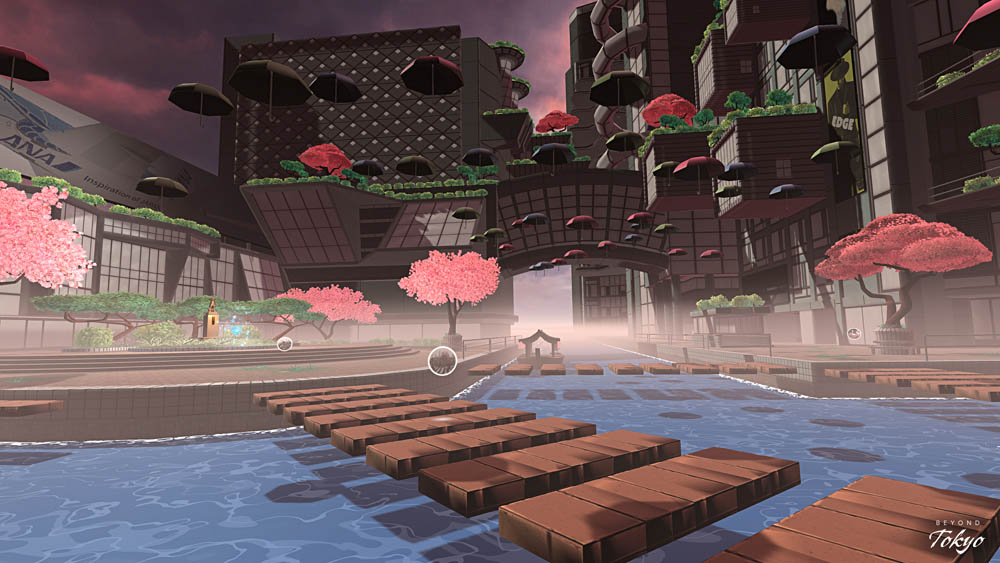 Along the same line of "going beyond", apparently some urban legends are explored in Beyond Tokyo. Can you give us some examples of these? Were there any urban legends you felt were 'too crazy' or just didn't have time to include?
Zach: There are countless urban legends in Japan/ Tokyo/ Shibuya. For example, there's one about when you cross the Shibuya Crossing at exactly 3:36am, you'll disappear into another dimension. There are actually YouTube videos of people testing this out:) There is this adorable one about the LOVE statue in Shinjuku – if you could walk between the V and the E without touching the sculpture, your love will be reciprocated. So we let you try doing just that in Beyond Tokyo:) We have a whole level/ scene that's sort of an "upside down" Shibuya for you to explore some of these.
There are many more, some rather "dark", and maybe a bit much for our family-friendly app. For instance, we feature this spot in Beyond Tokyo called Kiyomasa's Well, a "power spot" inside Meiji Shrine. Power spots in Japan are spiritual spots full of powerful and positive natural energy. Many say that taking a picture of the well and using it as your mobile phone's home screen will bring you good luck – that's why there's always such a long line of visitors there! But there's a darker alternative story about the well. Rumor has it that Kiyomasa Kato, a famous samurai who originally built this well, was actually poisoned by his enemies. So if you visit this well without going to the shrine to pray first, you'd be possessed by an evil spirit and will be cursed…
These stories are pretty spooky! Do you have any others?
Zach: Well there's Sendagaya Tunnel in Shibuya, which famously passes under a cemetery and has long been a hot spot for ghost sightings. Many reported that they were chased by a bloodstained woman with long hair when walking through this tunnel, and drivers passing through claimed to have heard a body falling onto the roof of their cars…. I don't dare go there myself!
Going back to a higher level, do you see VR as being an important part of the travel industry going forward? Or is it a contradiction in terms of having people 'travel' without going anywhere?
Zach: I believe that the core value of VR is not to replace the real world, but to create a whole new world and experience. (Actual) travel is one way to get to know different cultures, and books or movies could be solutions as well. Our challenge is to create a new world in VR to open up a new way to learn about a different culture in an immersive way. Some foresee a day when technology gets so advanced that no one will go travel. It could happen. But I strongly believe that once we could stimulate intellectual curiosity about a place, and help people make an emotional connection with the place, THAT will inspire people to travel more.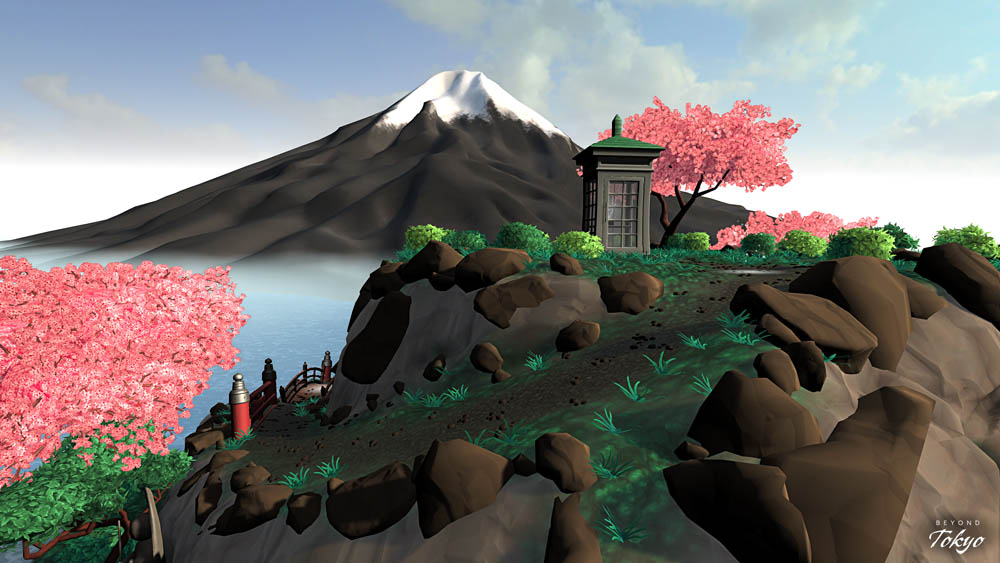 Finally, what are your favorite places to explore in Tokyo, and why?
Vicky: Anywhere with good food, which is pretty much everywhere in Tokyo. I use the site Tabelog a ton for research (like Yelp). Also love checking out all sorts of snacks and okashi (sweets) in basements of department stores. If I have more time, I'd also take long walks in different parks e.g. Ueno Park, the one by the Imperial Palace – it's a nice, soothing contrast from the concrete jungle surrounding them. But overall, the best experience is to just hang out with a local friend, who could share with me what's special about a place, about the food I'm eating, about the people around. These new stories and different perspectives (and the food:)) are the reasons why I travel.
Logan: I love Shinjuku and Shibuya, always bustling with life, but my favorite place would have to be Harajuku. I love the fashion, the shops, and the tight winding streets. It's also close to the Meiji shrine in Yoyogi Park, which makes for a beautiful walk when you want to get away from the city and into some nature.
I'm also an avid toy collector. I love Akihabara, the Otaku capital of the world. Though you'll be even more likely to find me in Nakano Broadway, shopping at the plethora of collector's stores for some of the rarest toys on Earth.
Zach: Ochanomizu, Meidai Dori (= Meiji University Street). This street is known as Guitar Street due to its high concentration of guitar shops. As I am a big music lover and play bass guitar, I can spend hours there. There used to be many used record shops in this area. Most of them are gone, but some still exist so you many find rare classic records there. By the way, the name Ochanomizu means 'tea water', and is derived from the practice of extracting water from the nearby Kanda River to make the shogun's tea in the Edo period. And as it's shown on the name of the street, it is a college town, so you can find a lot of small but good and cheap restaurants there.
Also, especially in Spring time, Meguro is a great place to visit. About 800 cherry trees line both sides of the Meguro River for several hundred meters. It's such an amazing sight, especially during the Nakameguro Sakura Festival, when the trees are lit up in the evenings. After so many years living in Tokyo, it's still amazingly beautiful to me:)
Thank you for speaking with us, everyone!
---
Beyond Tokyo is now available on Viveport, and as part of Viveport Subscription.