Think VR is dying? It's just getting started
Have you heard the news? Analyst reports are in and apparently, it's curtains for Virtual Reality (VR).
Pardon us if we're not heeding the alarms. News of the so-called death of VR comes once a year and is greatly exaggerated.
Four Things You Should Know About the Analyst Forecasts
That's not to say analyst VR forecasts don't have valuable information—they most certainly do. But we thought it would be helpful to look more closely and critically about how they came to their conclusions.
1) The start of "consumer VR" was driven primarily by mobile phone viewers like GearVR and Google Cardboard. As these have become less enticing (i.e. the VR experience isn't living up to consumer expectations), those units that were largely used as promotional devices for phone launches have dropped off.
2) Premium VR has solidified and ramped up over time, yet the major players have not released sales figures to substantiate the market momentum (read on for a key figure we are releasing today).
3) The overall VR experience continues to improve with the enhanced resolution and comfort of the HTC VIVE Pro, more titles, more accessories, and soon, less cables. Yet, the analysts aren't predicting a watershed moment based on these improvements.
4) Businesses are ramping up VR investment in a big way, especially in the location-based entertainment and training industries. These numbers don't hit consumer forecasts, and therefore, are not included in the reports.
What About Those VR Sales Numbers?
Ah yes, sales. Digital Trends wrote a report last week which dove into third-party Amazon data to show a steep drop in VIVE sales. This has been the case of most of the dread and panic pervading the internet about VR.
It's also not the whole story. There's a reason for this decline.
VIVE has paced at its highest sales velocity of all time, for weeks on end, and we sold out. For a consumer electronic product in its third calendar year, this continued trajectory is nearly unheard of.
Don't worry, though: we are ramping up production of the original VIVE and units will continue to roll out to online and retail over the coming weeks.
Reminder: These Things Take Time
More and more, as people begin to understand the possibilities for virtual applications, word of mouth will grow, and sales will continue their upward trajectory.
In the VR industry, it's important to not only move units, but to ensure that we have a growth path for customers and our business over time.
That is why we're happy to see intelligence firms like International Data Corporation (IDC) get it right. They analyzed VR revenue share and show VIVE as the leader in the space, which means our investments are paying off for consumers and businesses. It means customers have more to do with their VR headsets and it means businesses see a path toward earning money themselves. It's exactly where we want to be.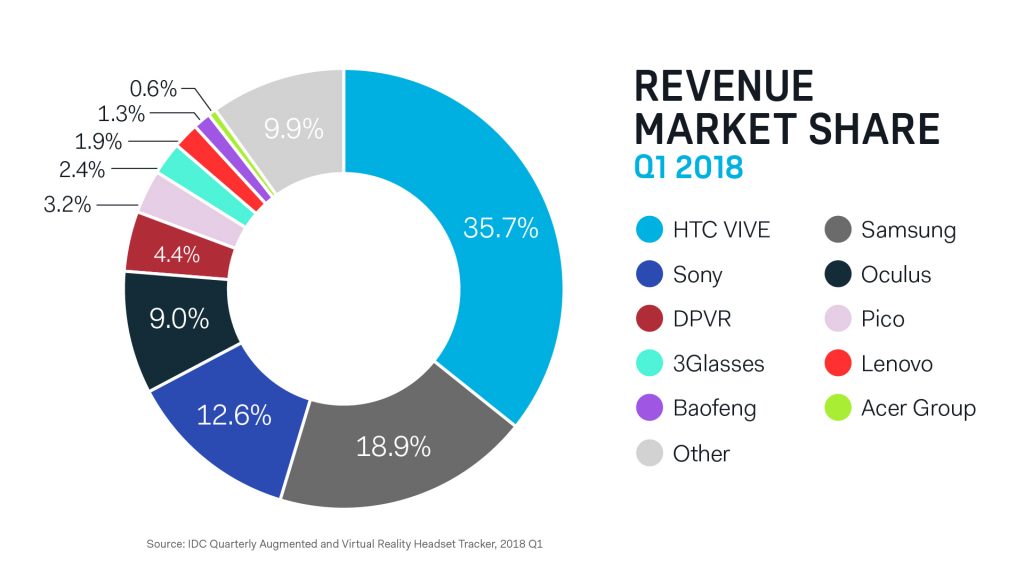 We believe VIVE offers the best in premium VR, whether PC-based or Stand-alone (AIOs).
Our stand-alone product, VIVE Focus, is gaining traction rapidly since its China launch. It's the number one stand-alone in China, and our WaveVR platform runs on three of the top four AIOs in China. We'll have much more on Focus soon as we bring that product to additional markets.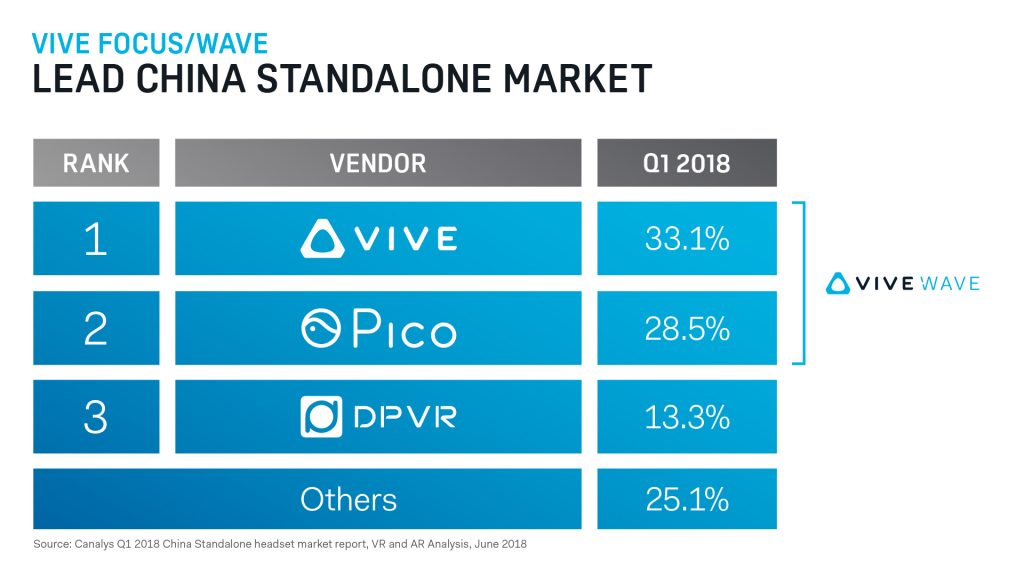 It takes time to launch a new technology. We're glad you're here and have invested in this journey with us.
– Vive Team
---