How Oculus Rift and Rift S Owners Can Set Up Viveport to Redeem Two Months of Infinity
Starting today, Oculus Rift and Oculus Rift S owners can redeem two free months of Viveport Infinity as we celebrate the expansion of the VR ecosystem and welcome new users to the platform. For the month of June*, new and existing Infinity members can redeem two months of unlimited access to hundreds of top VR titles in the subscription service in addition to all membership perks and benefits such as purchase discounts and access to Viveport Video.
New Oculus Rift or Rift S Viveport Infinity members who sign up for the standard 14-day free trial in June will find a two-month Infinity code in their account before their free trial ends. All current Viveport Infinity users with an Oculus Rift or Oculus Rift S headset will find their account automatically updated with two-free months on June 3. In addition, this offer will extend to Valve Index owners who will be able to redeem their two-free months of Viveport Infinity later this summer as headsets become available. More information on how to redeem can be found in this guide: https://www.campaign.viveport.com/en-oculus-rift-campaign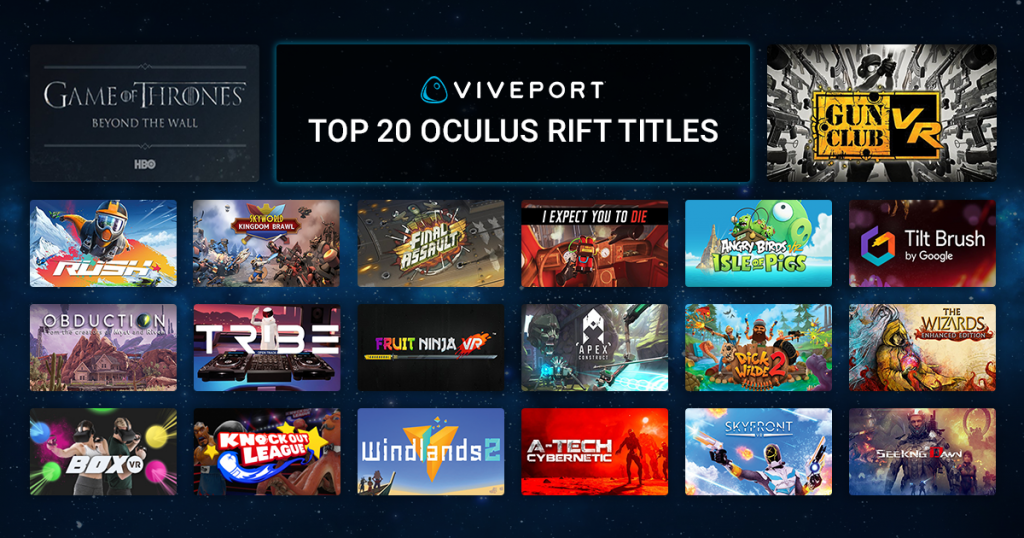 If you're an Oculus Rift user discovering Viveport and Viveport Infinity for the first time, we've got a quick start guide below to help you out.
Step One: Set up your Oculus Rift
Without your Rift ready to go, we can't start playing titles from Viveport, so make sure to:

Step Two: Get Viveport
You'll need to download the Viveport desktop app to access your Viveport library, download titles and play them. You can download the Viveport desktop app here. If you already have a VIVE or VIVE Pro, you may already have Viveport installed (in which case, skip on down to Step Three).
After downloading Viveport, locate the file and launch it. During installation, you will need to:
Sign in with your HTC | VIVE Account (or create a new one).
Install SteamVR. This will happen automatically, but you may be asked to sign in to Steam during the installation.
After installation, you'll be able to launch Viveport from the desktop shortcut.
Step Three: Sign up for Viveport Infinity
Viveport Infinity is the first unlimited and platform agnostic subscription service for virtual reality. At $12.99 a month, or less with a prepaid annual subscription, Viveport Infinity offers the opportunity to try hundreds of VR's popular and indie titles at an accessible price. Sign up to start your 14-day free trial and you'll receive your promotional two free months before your free trial ends.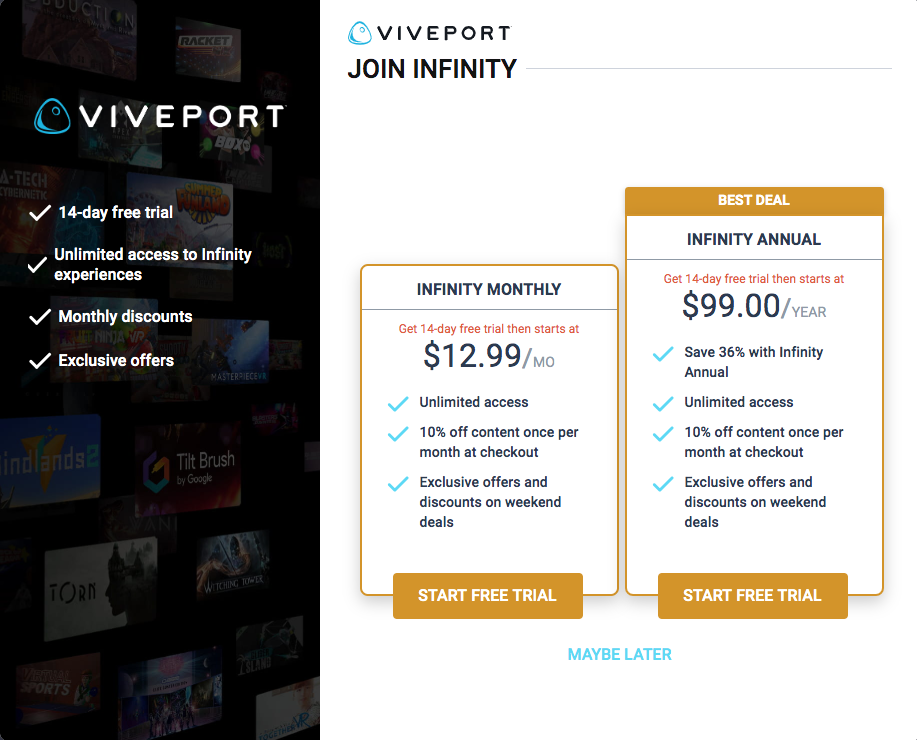 Step Four: Browse for Oculus Rift compatible titles
You can browse Viveport either from within the desktop app or via Viveport.com. Here's what to look out for:
Infinity titles that are Oculus Rift compatible will have the icon displayed throughout the site
You can also filter for Oculus Rift compatible titles
After selecting a title, it will be added to your Viveport Library, accessible from your desktop app or from Viveport.com while logged in
To play your titles, download and install them via the Viveport desktop app
Launch your Viveport Infinity titles from within the Viveport Library
Looking for some great Oculus compatible experiences to get your Viveport Infinity journey started? Check out HBO's Game of Thrones experience, Beyond the Wall or read our blog post on some of the top Oculus Rift titles on Viveport.
*Update – This offer has been extended through August 4, 2019
---