VIVE Flow: immersive glasses that elevate your lifestyle
VIVE Flow: immersive glasses that elevate your lifestyle
VIVE Flow is our new immersive glasses that opens up a whole new category in the VR space. It allows mainstream media consumers to bring VR on the go with the highest portable immersion not seen from any other VR product on the market. Here we demonstrate some of the highlights of VIVE Flow and we hope you will fall in love with it as much as we do.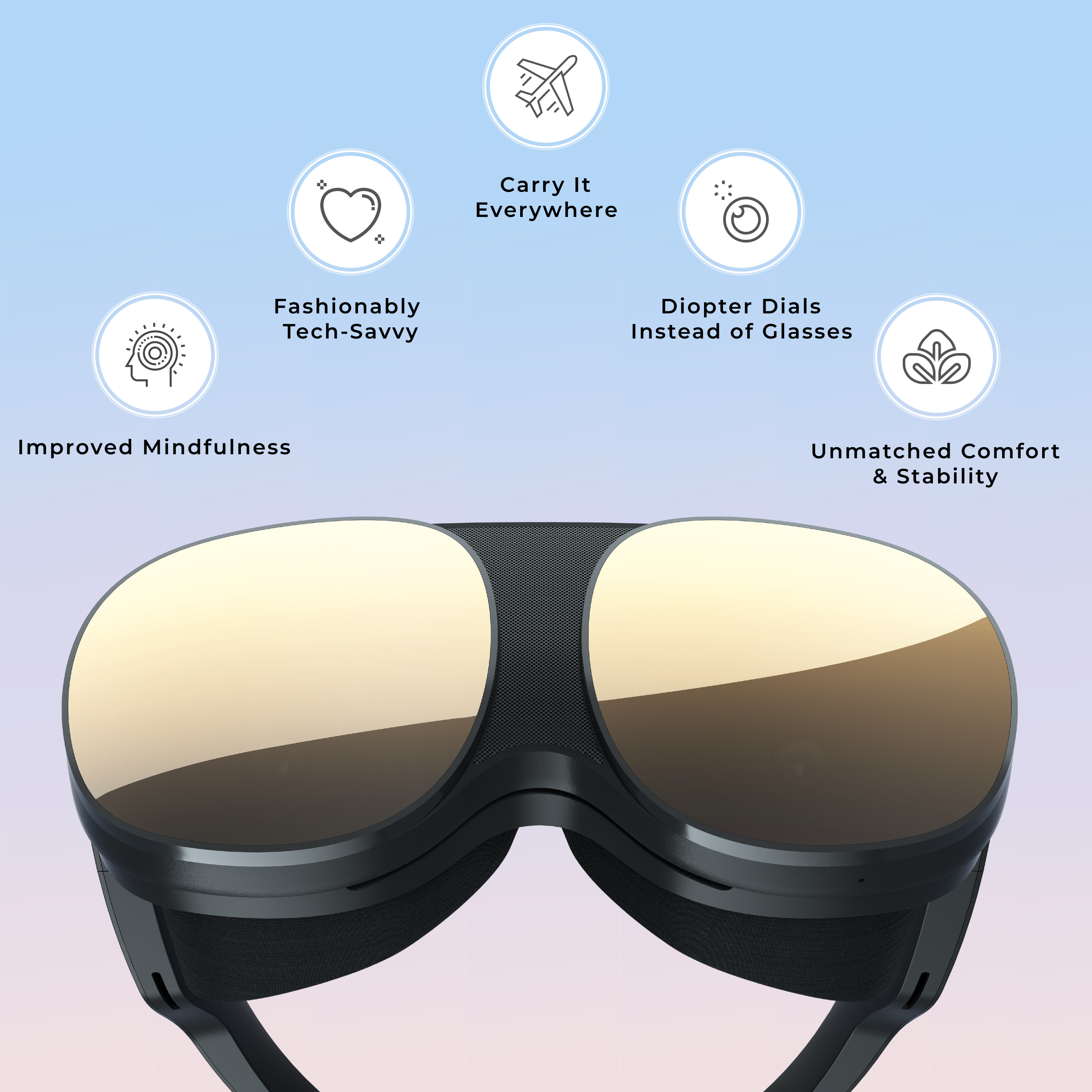 Carry It Everywhere
VIVE Flow is just as light as most smartphones, weighing only 189 grams. It is small enough to be held in one hand, and can fit in most bags in your wardrobe. You could use it on a taxi, on the bus, in the air, or when watching a sunset.
The power of VR brings you to places you can't go to; and now with VIVE Flow, you can bring VR to new places.
Fashionably Tech-Savvy
VIVE Flow makes a bold and trendy fashion statement. Love it or hate it, but you can't deny that these immersive glasses might be the most unique-looking XR device on the market. We've had plenty of public bystanders walking up to VIVE Flow owners asking about it and how futuristically enticing it looks. Don't believe us? Get yourself a VIVE Flow and see for yourself.
Improved Mindfulness
VIVE Flow was created for peoples' wellbeing and mental relaxation in mind (no pun intended). Whether you are on a business trip or at home, VIVE Flow creates a space for you, and you only. With VIVE Sync, every environment can be a Lo-Fi distraction-free workspace.
After all, your mind is superbly important, and it would be an honor for us to help you put it at its most relaxed and optimal state.
Diopter Dials Instead of Glasses
Your glasses don't fit into other VR Headsets? No worries! VIVE Flow's built-in diopter dials, allow you to easily make adjustments – so you can find your viewing sweet spot without having your glasses on. No more awkwardness of putting glasses on top of glasses.
Unmatched Comfort & Stability
Since VIVE Flow was created for relaxation, comfort and stability has been one of our highest priorities. With the soothing face cushion as well as being so weightless, you can easily put VIVE Flow on and take it off just like you normally do with sunglasses. The proprietary dual-hinge fit design ensures both comfort and stability for different head shapes and sizes.
Finally: immersive glasses for an optimal lifestyle
These are just a few of the many reasons why we think VIVE Flow is so special. There are plenty of other traits that we believe will make you fall in love with VIVE Flow the moment you integrate it into your daily routines.
We look forward to hearing what you love most about your VIVE Flow. And of course, we're excited to see you in the VIVERSE!
Learn more about VIVE Flow.
Follow us on Twitter to get our latest updates on new products, sales, events, and more.
---