Traditional comics have been published for more than a century, and remain essentially the same; a two-dimensional medium with words and pictures. Virtual reality offers an interesting possibility for comics: what if you could step inside their panels?
Writer Daniel Corey had the opportunity to explore that, when his comic book project Moriarty: Endgame was adapted for VR. The result is Moriarty: Endgame VR – available on Viveport and in Viveport Subscription. We spoke with Daniel about this unique VR story.
Hello, Daniel; tell us a little bit about you and your comics background.
I'm Daniel Corey, and I am a writer and content creator. I live in Los Angeles, CA, where I run my own IP creation company, DangerKatt Creative Studio. I am an independent comic creator, as well as a story consultant for various production and video game companies. I have published four comic series: Prophet and Bloodworth under the DangerKatt banner, plus Moriarty and Red City with Image Comics (home of The Walking Dead!).
I recently collaborated with Sydney-based Transmedia Entertainment to release Moriarty: Endgame VR, a virtual reality adaptation of my Image series, a project that saw me ranked #2 on Onalytica's Top 100 VR Influencer list. I'm married to the Amazing Brenda, have two cats named Choo-Choo and Annabel Lee, and I am a proud HTC Vive owner.
You can find me online at DangerKatt.com, MoriartyVR.com, Facebook.com/MoriartyComic, on Instagram at @TheDangerKatt, and on Twitter at @DangerKatt.
Let's go back to the origins of Moriarty: Endgame – which was your original Moriarty comics series. What was the genesis of that? 
Well, let's jump back to 2008, when DangerKatt was only a year old (celebrating 10 years this month!). I was getting ready to release DangerKatt's Prophet, my first graphic novel, which was a collaboration with artist/wizard Anthony Diecidue. I was contemplating what to do next, and was feeling a bit of a slump coming on. I was standing in the shower, letting my mind wander, as I do. I suddenly had this vision of Professor Moriarty, standing on top of a large clockwork gear. I called Anthony told him, "We're going to do a comic book about Professor Moriarty, the arch nemesis of Sherlock Holmes. I'm going to get us a major publishing deal with one of the big houses."
Anthony was a bit surprised to hear this, as the entire thing sounded a bit insane to his rational mind – my having the vision in the shower, and all that. He was hesitant to tackle a period piece, which was completely understandable at the time. Period drama, adventure and fantasy dominate the airwaves today, but in the 2000s, period pieces – with a few notable exceptions -weren't a booming thing. I told Anthony, "just think of it like a gothic horror piece, with guys in top hats and cloaks walking down cobblestone streets thick with fog." Anthony quickly caught the vision. We both went a little crazy and started this massive project, having no clue if anyone would care.
We created pages, which I would show around at networking groups and events. I went to every comic convention that I could and spoke to every editor in the business. We were turned down by every single publisher, except one: I never approached Image Comics because they were so big, and I didn't think we had a chance. I was in the midst of disappointment and despair at the end of 2009 when I finally put together a cold submission package for Image.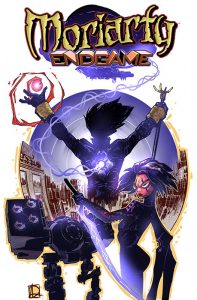 Three weeks later, I got an email from Image publisher Eric Stephenson, saying that he was interested. We signed a contract in 2010, and the first issue of Image Comics' Moriarty hit stands May 11th, 2011. We released two volumes, and then the Moriarty Deluxe Edition Hardcover released in 2013. After releasing Red City with Image in 2014, Anthony and I returned with letterer Dave Lanphear to release Moriarty: Endgame digitally in 2015.
I'm very grateful to Image for their vision, a trait for which they are known. BBC's Sherlock series would debut around the run of our comic, and then the Robert Downey Jr. films, the Johnny Lee Miller series Elementary, etc. Suddenly period pieces like Outlander, Downton Abbey, Boardwalk Empire, etc. suddenly came into vogue. It was a perfect environment for our book to be released in.
The original series was set in the early 20th century, but Moriarty: Endgame is set in the future. Why the time-jump? 
I just had it in my mind that I wanted to see Moriarty battling Sherlock Holmes in the future. Moriarty and Homes are immortal, after all. As long as there are stories, their conflict will continue through the ages. Why not skip ahead and see what they're doing in a dystopian, tech-laden wasteland? I hadn't personally seen a Moriarty and Holmes story done that way.
It was a much easier sell to Anthony that go-around, not only because he was a Moriarty veteran at that point, but because this story would allow him to draw mech warriors. Something he had been dying for.
Anthony loves drawing robots. Most comic artists do. Likely all of them.
So, Moriarty: Endgame was a one-off experience of a comic story, and the purpose was to make a statement about the power of storytelling, myth, and the immortality of Moriarty and Holmes.

Why did you choose Moriarty as your protagonist, instead of Sherlock Holmes?
Simply put, I am a lifelong Sherlock Holmes fan, and wanted to do something in that world. But I didn't want to do just another Sherlock story. And it's a good thing we didn't, because I'm sure that Image wouldn't have responded to that. They're always looking to shake things up, and a Moriarty comic was going to stir more attention than a Sherlock one would.
Besides, to that point, nobody had ever done a Moriarty comic series. He's appeared in comic books, notably in the first volume in of The League Of Extraordinary Gentlemen. But there had never been a comic series that featured Moriarty as the title character and leading man. In 100 years of Sherlock Holmes adaptations, Anthony, Dave, and I were the first to do that, and Image was the first publisher to put it out. I'm proud of that.
After you completed each series, Moriarty: Endgame was adapted into a VR experience. What was the incentive for that?
I had worked with artist Chris Fenoglio on Red City at Image, where he colored Anthony's inks for that book. I called Chris up and asked if he could illustrate a 10-page science fiction story about an FBI agent that can enter people's memories to solve crimes. And then we were off to the races. That short story grew into its own series – Bloodworth. (We are currently producing the third issue.)
So, the thing about Agent Bloodworth is that she uses technology to actually step into people's minds and examine their memories, as if the memories are crime scenes. Which is a sort of VR experience. I kept thinking about how I wanted to pick the art up off the comic page and just throw into the air around me, so that I could be immersed in the artwork. That's when I started researching the state of VR at the time, and it struck me as a coming thing.
I started taking panels from Bloodworth and Moriarty: Endgame and making stereo images in Photoshop, and dropping my phone into a cardboard viewer to look at them, like a View-Master. I just felt it was an exciting thing, the idea of being able to enter a comic book page. Nobody was talking about VR comics yet. So, I thought, why not get in before anybody else does?
I spent a few years contacting VR developers…and being ignored. Until VRLA in 2016. I was going around to the different vendors and talking to them about my books, and that's where I met Sydney-based Transmedia Entertainment. They were just game for it. The idea of a VR comic made sense to them, and we went to work.
I showed a small tech demo of a few scenes from the comic at Los Angeles WonderCon in April 2016. As far as I know, we had one of the first, if not THE first public demo of a VR comic book. We were certainly the only vendor at that show to have VR. I showed it to hundreds of comic fans, and for almost every person, it was their first time seeing VR. I even had a very famous TV star come around the table to see VR for the first time. (I don't want to name-drop and say who it was. But he was one of the Duke boys. I won't say which. He's blond.)
And then in April of this year, Transmedia's Joe Narai, Glenn Fraser and Karl Jenner flew to Southern California to demonstrate the newly completed Moriarty: Endgame VR on HTC Vive at WonderCon 2017. We also published on Viveport the first day of the show. That was great day.
As combining comics and VR is a new thing, we're calling the platform 'IC Comics', for Immersive Cinematic Comics. We're hoping to produce more soon.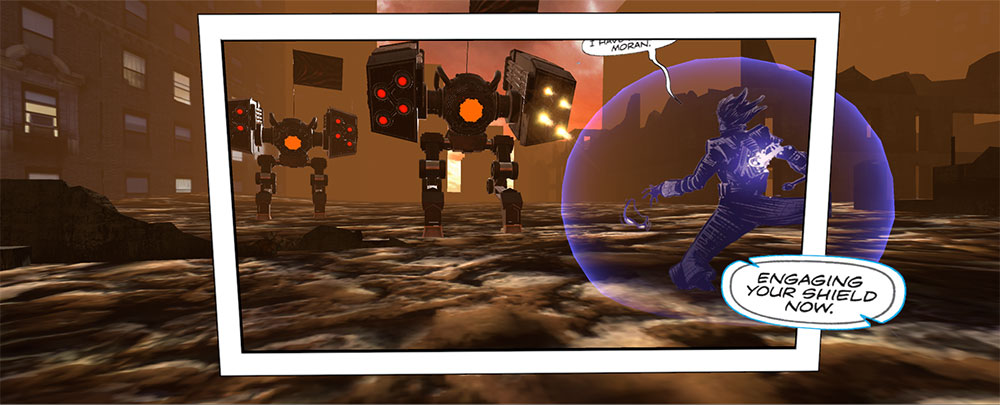 With these 'IC Comics', there's a combination of 2D art, 3D environments and even voice acting. What advantages do you think this 'blended experience' has over the usual 2D comic?
The interesting thing about IC Comics is that it's a VR platform that celebrates a traditional medium: printed comics. You can read a comic in print, or in 2D on your digital device, and then have the joy of entering into the pages of that comic in virtual reality. Have you ever wanted to stand in the streets of London and watch Professor Moriarty dismantle an army of mech warriors? Likely no, but after reading Moriarty: Endgame in its traditional form, you will. Because when you read our original story and take in Anthony's beautiful visuals, you'll want to experience it first-hand. Moriarty: Endgame VR lets you do that.
So, you can enjoy a comic book in print, and then enjoy it in VR, or vice-versa. Ever enjoy a stage adaptation of a movie or book that you love? It's the same story, but presented to you in a new and exciting way. IC Comics is a similar sort of experience.
What was Moriarty: Endgame VR created with?
The Transmedia team utilized Unity to create a platform called Drop-in VR. They used Drop-In VR to create the IC Comics format.
What was the most challenging part of adapting the comic book into VR for the development team?
It was mainly a matter of figuring out how to present the comic story in VR format. It was decided early on that the environments would be created in 3D, but the characters in the panel art would be pulled right off the comic page and placed into the immersive environment. The idea of creating static 3D models of the characters didn't appeal; if it was to be a true VR comic book, it needed to retain the soul of the printed page.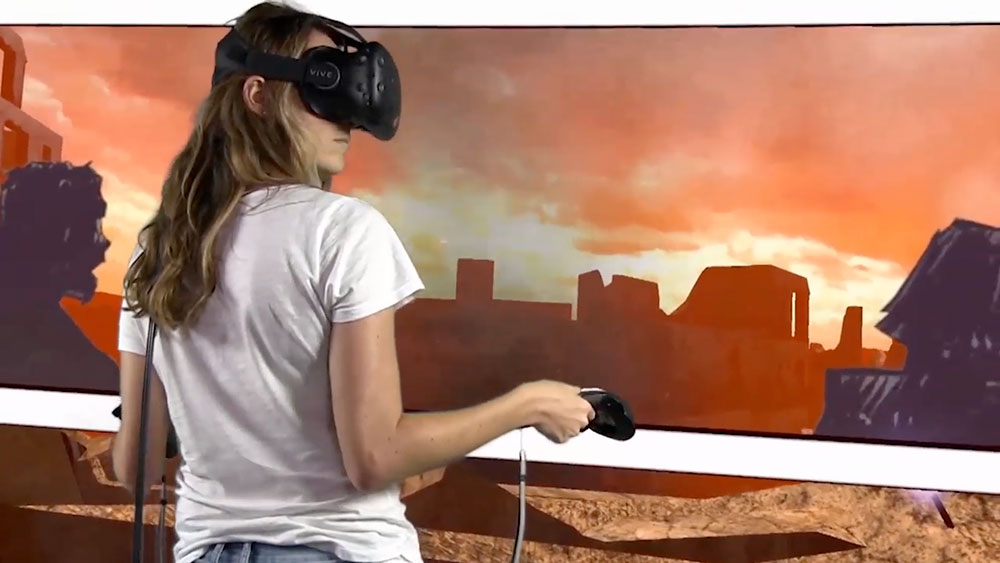 As the writer of Moriarty: Endgame, what was the most exciting, surreal or just plain cool moment for you in the VR version?
Excellent question! One of the most thrilling things about VR in general is the sense of scale that you get, especially in the Vive. In the first panel of Moriarty: Endgame VR, we're hovering thousands of feet over London, observing Moriarty's airship, which is pretty amazing. But even cooler is the moment when you are in Sherlock's 221B office, and Colonel Moran fires a sniper round through the window…you can look back over your shoulder and see the bullet's smoke trailing hundreds of feet back up to the airship. So, there are you, a comic reader, getting this incredible sense of both height and distance, inside of a comic book world! It's pretty thrilling, and really gives you the feeling of actually being there. The Transmedia guys did a great job.
Do you have any favorite VR experiences?
I love Raw Data, by Survios. Also, at VRLA this year, I really enjoyed VR Galactic Gallery, an interactive art experience created by Zach Krausnick and David Starfire.
I must say, I have spent quite a bit of time in Google Earth VR. It's just too amazing, to be able to instantly visit any place on the planet.
Friends and fellow Full Sail University Alumni Elbert Perez and Chance Glasco's company Doghead Simulations is working on something exciting: rumii, a new VR conferencing and collaboration software that will bring teleconferencing to an entirely new level. Very excited to see rumii change the industry.
Are you planning any future ventures into VR – perhaps something that originates in a VR format?
Everything else is in planning stage at the moment, but I'm hoping to develop games based on my comics. There has been interest in action/story-driven games based on Moriarty and Red City. By the nature of its premise, Bloodworth is a mystery-solving experience that takes place in VR, so I've had discussions with several companies about everything from a story-based VR game to a 360-degree TV series.
We currently have heavy interest in a traditional Bloodworth TV series, so fingers are crossed.
VR or not, what are you currently working on, or is out soon?
Thanks for asking! I am gearing up to release the latest issue of Moriarty, titled Moriarty: The Jade Serpent, featuring art and cover by Eisner-winner Janet Lee and letters by Dave Lanphear and his A Larger World Studios. I'll be exhibiting at L.A. Comic-Con at the L.A. Convention Center this October 27-29, where convention goers will be able to view a demonstration of Moriarty: Endgame VR on HTC Vive, and I will also be selling convention-exclusive print copies of Moriarty: The Jade Serpent.
Other than that, Chris Fenoglio, Dave Lanphear and I continue to work on the Bloodworth comic series, and I'm currently developing a TV pilot (which I can't really talk about yet, but hope to soon).
It's been a great past few years for DangerKatt, and I'm hoping for exciting things to come to fruition in 2018. I'll keep you posted.
Thank you for talking with us, Daniel!
---
Moriarty: Endgame VR is on Viveport, and in Viveport Subscription.