Viveport holiday picks for 2017
December is here and that means the holidays are coming!
Whether you're experiencing VR for the first time or looking for new titles to check out, we've got some holiday picks for you – sourced from our very own Viveport staff. Think of these as personal picks from people who know best!
Island 359
Available now in Viveport Subscription
Thomas' pick, and here's why: With Vive Trackers coming out this December, I have to experience the full body tracking in Island 359. There's something equally terrifying and exciting being dropped on a remote island with dinosaurs, but I'll feel better defended with my two feet in VR with me. I hear Raptors are terrified of a roundhouse kick.
Front Defense: Heroes
Available now on Viveport, and in Viveport Subscription
Tommy's pick, and here's why: I'm excited to band together and against my coworkers! The multi-player aspect of Front Defense Heroes ensures that the experience is always fresh and exciting and emphasizes teamwork as much as smack talk. With multiple maps and three distinct game modes, this game will keep anyone occupied during the break!
Fantastic Contraption
Available now on Viveport, and in Viveport Subscription
Ylva's pick, and here's why: Over the holidays, me and my daughters will play Fantastic Contraption and compete in who can create the most surreal machines and best solve the puzzles. It is pure fun – both to play and to watch others play. A perfect holiday game for the family.
Apollo 11 VR
Available now on Viveport, and in Viveport Subscription
Shubham's pick, and here's why: I'm very excited to hear the old radio broadcasts, John F. Kennedy speeches, and astronaut's conversations on this iconic moon landing journey. Apollo 11 was one of the most iconic events in modern history so to get a chanced to be immersed in it is a awesome. Will be fun to explore the moon and then get to explore presents this holiday season with my family!
Earthlight: Spacewalk
Available now on Viveport
Jenna's pick, and here's why: I have never quite felt such a sense of peace and perspective as when I experience Earthlight. No other VR app has captured that authentic sense of scale, of what it means to not only work on the grandeur of the International Space Station, but also to capture the marvel of looking upon the Earth from that perspective. Whether I'm performing a task to maintain my galactic home or just virtually drifting in space, this collaboration with NASA is a beautiful, engaging and realistic escape that only VR can make possible.
Happy Drummer
Available now in Viveport Subscription
Angela's pick, and here's why: Happy Drummer is one of my favorite titles on Viveport subscription. It is a fun, entertaining, light-hearted musical masterpiece that everyone can enjoy – no matter your age. I've always been a huge fan of games that involved music, rhythm, and creativity but could never get the full, immersed experience as I can now, in virtual reality. I am able to feel the vibration of the drums as I attempt to pass each challenge and physically see the notes coming at me, which is way more captivating than staring at a 2D screen. One of my favorite things about this title, is that one second, I'm grooving to this awesome beat in front of me, then I'm prompted to turn around and the beat and style switches on me! I cannot get enough of Happy Drummer, definitely something I will be jamming to this holiday season.
Arcade Saga
Available on Viveport and in Viveport Subscription
Stephen's pick, and here's why: I'm addicted to this retro-arcade game. It's like classic 1980s arcade games, but you're standing inside the graphics instead of looking at them in a cabinet. I love playing all of the game modes but Smash is probably my favorite. And even better there are multiplayer modes now to let me compete with fellow 'Smashers' over the internet!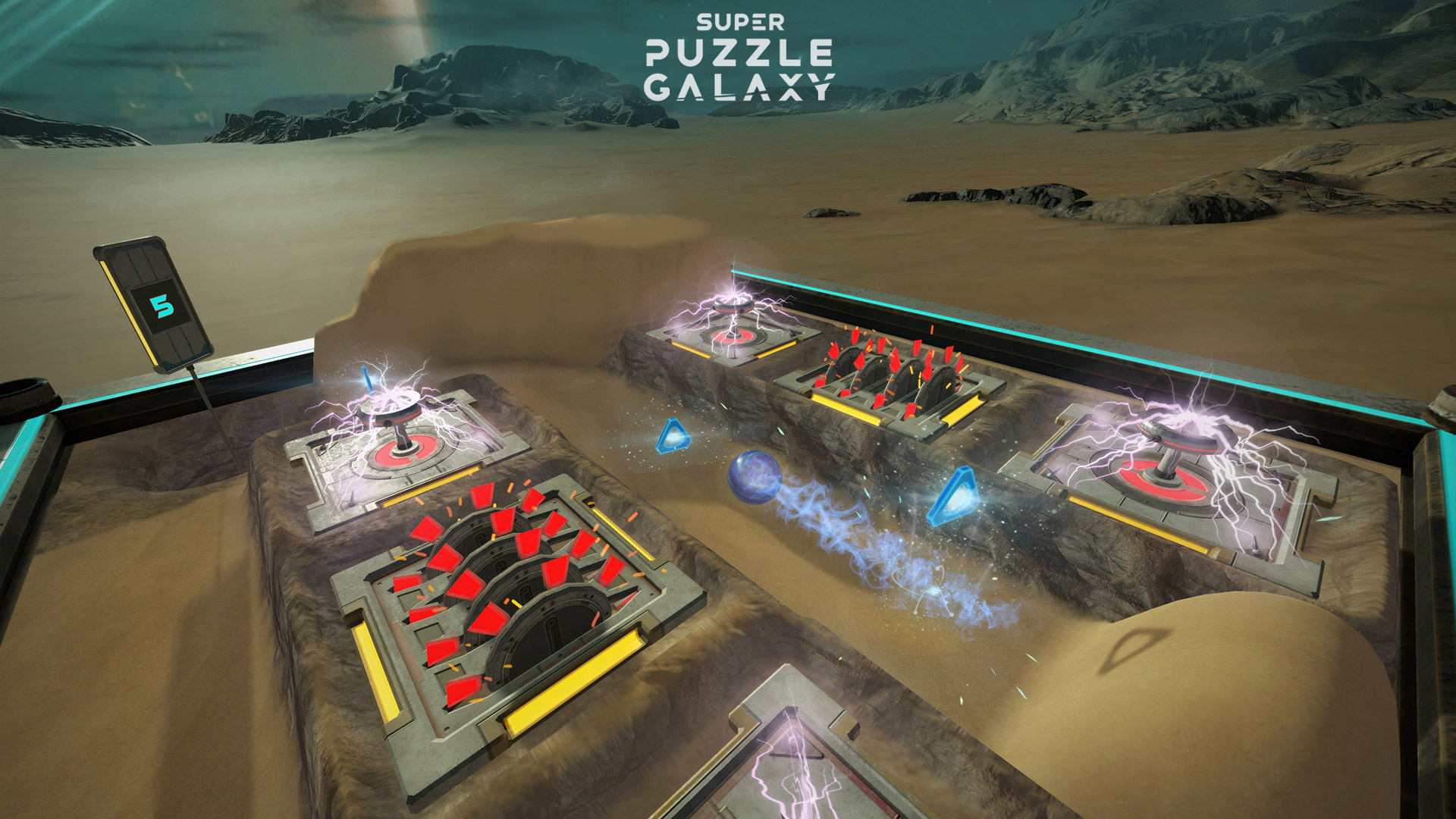 Super Puzzle Galaxy
Available now on Steam and on Viveport (LITE version)
Paige's pick, and here's why: It's like Mouse Trap on Saturn! Super Puzzle Galaxy calls upon your creative problem solving skills as you vie to make the fastest pathway to the goal and rule the leaderboards. I love the ability to create my own levels and share them with the Vive community.
Fallout 4 VR
Pre-order now on Steam
Jeff's pick and here's why: Fallout 4 VR is the game for me! Fallout 4 was one of the best games in the last few years so of course I'm excited to be fully immersed in the world of Fallout for VR – roaming the Wasteland will be so intense.
Operation Apex
Available now on Viveport
Chris' pick, and here's why: I absolutely cannot wait to "swim with the sharks" in Operation Apex!  This underwater learning adventure is perfect for the whole family: dive among the fish & other sea creatures in gorgeous ocean settings, uncover the mysteries of our precious ocean ecosystem, and swim face-to-face with sharks – including the mysterious Great White Shark — all from the comfort of your own home just in time for the holidays.
---
What are your holiday picks for VR? Talk about them in our Community Forums!
---