Vive Studios and Free Range Games launch ReMind VR: Daily Meditation on Viveport.
Reduce stress, manage anxiety, improve focus, increase relaxation, boost compassion. The list of benefits acquired through the practice of meditation is long and its positive effects on one's emotional and physical health are championed throughout the medical industry. But starting a meditation routine can be daunting and with all our modern distractions, quieting the mind can seem impossible. Launching today is ReMind VR: Daily Meditation, the relaxing VR app that will guide you through mindfulness sessions as you begin your meditation journey.
Published by Vive Studios and developed by Free Range Games, ReMind VR: Daily Meditation has the power to relax and rejuvenate the mind. With three 30-minute experiences available at launch, users will learn effective techniques in mindfulness, leaving them centered and ready to take on the day. These daily exercises to train the mind are guided by three experts in the field of relaxation therapy: Tamara Edwards, Mackenzie Hall, and Eric Monkhouse. Each experience focuses on a specific goal, allowing you to cater to your mind's changing needs each day:
Let Go – Let go of negative thought patterns by tossing paper airplanes off an urban skyscraper, leaving stress behind and feeling peaceful, happy and free.
Drop the Habit – Skip pebbles onto a lake in the Japanese countryside and observe how our clear mind is disturbed by the impact of negative thoughts as water ripples extend across the surface. Learn to remain focused and centered despite the presence of disruptive thoughts and feelings.
Infinite Lightness – Observe changes on the horizon as the sun slowly rises and colors of the sky transform our perspective while experiencing the clearing of our modern multi-tasking mind.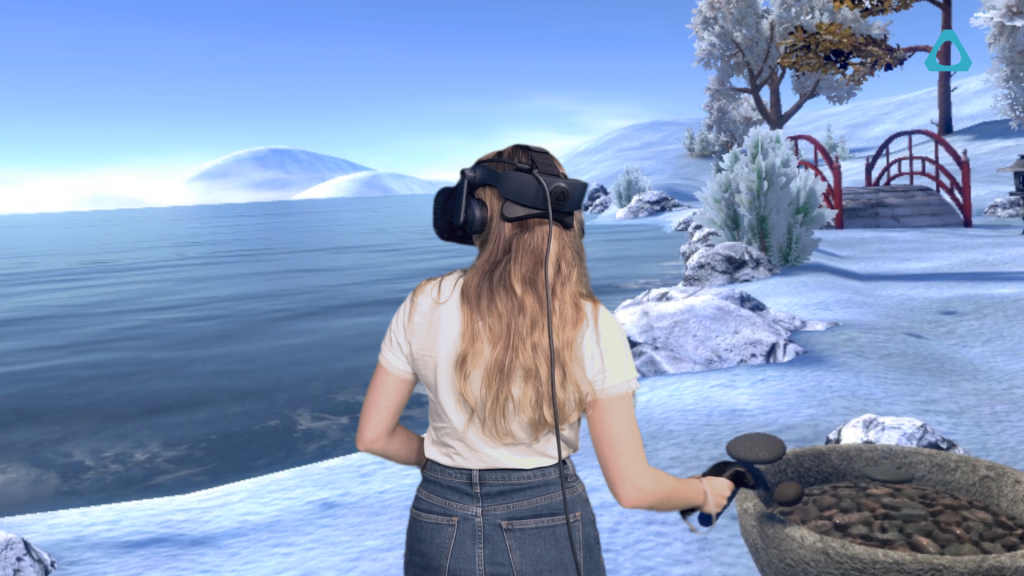 ReMind VR: Daily Meditation provides a rich meditation experience that can only be obtained through virtual reality. Meditating in VR allows users to completely disconnect from their devices and household distractions as they become fully immersed in the experience. Virtual reality has proven to be a game changer in the fields of mental and physical health. With psychologists and medical professionals recommending the use of VR to treat PTSD and phobias to rehabbing injuries and stroke victims, it becomes clear that remarkable things can happen when you combine VR with the power of the mind.
ReMind VR: Daily Meditation is available today on Viveport for $4.99 and on Viveport Subscription.