Yee-haw! Who hasn't wanted to strap on six-shooters, put on a cool hat and ride into the sunset on a trusty steed? Thanks to virtual reality there are plenty of ways to do that, but if you want a heaping of humor served up with your Wild West, you'd be hard pressed to beat Guns 'n' Stories: Bulletproof.
Now available on Viveport and in Viveport Subscription, we talked with Artyom Metelyov, game designer at the Kiev, Ukraine-based MiroWin.
Thanks for answering our questions! First of all, tell us about Guns 'n' Stories: Bulletproof – why should people want to play this?
Guns 'n' Stories: Bulletproof is a primarily fun to play game with a low barrier to entry to start, that's suitable for anyone who has a VR system. We wanted to create a game which you can play with your family or friends. We wanted a storyline that would leave you with a smile on your face, as well as a large amount of arcade action for competition with friends or the game community. We also wanted to make your game experience comfortable, so you will not feel any motion sickness while playing.
Where did the original idea come from – was it wanting to do a shooter, the Wild West setting or maybe something else?
We wanted to create a game in a Wild West setting, and because ranged weapons feel very natural in VR, we decided that this will be a shooter. Also, as it's the first game for a studio, we wanted to create a casual, family friendly game which would be pleasant to play in the evenings with our own families.
Guns 'n' Stories has a very distinctive art style. Were you inspired by anything specific?
Well, in a game with a lot of jokes, funny moments and humorous deaths we decided that a cartoonish style would be most suitable! We did not want to chase photorealism, in part so that even if you play the game after a couple of years, you would still be pleased with a warm and positive picture that makes you smile. We also took inspiration from such beautiful games as Call of Juarez and Borderlands.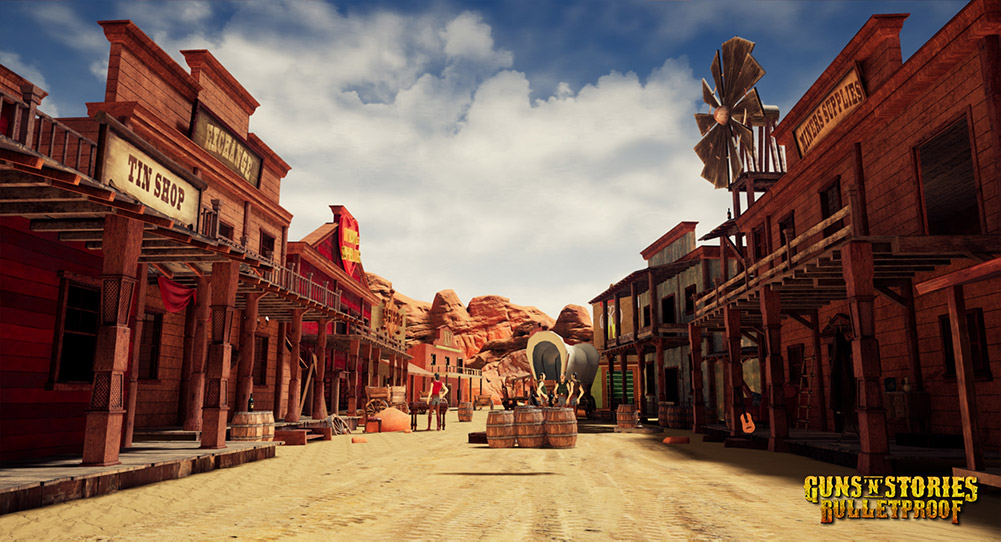 Tell us about some of the crazier weapons that players can use in Guns 'n' Stories. Which one is your favorite?
Ha-ha, that's a really interesting question. Every weapon in our game has some craziness. The only weapon that you could see in real life – it's Bill's revolvers (he's the main character). Old man Bill is a big dreamer, so he likes to exaggerate in his stories for his grandchild. Most of the weapons are made in a steampunk style. For example, I really like the Teslagun, it's a very powerful rifle that can do a lightning shot and make enemies dance from the high voltage. Some weapons have a sci-fi style, like laser gun with gravity grenades, and some weapon just have crazy ideas, like the dynamite crossbow or self-loading grenade launchers!!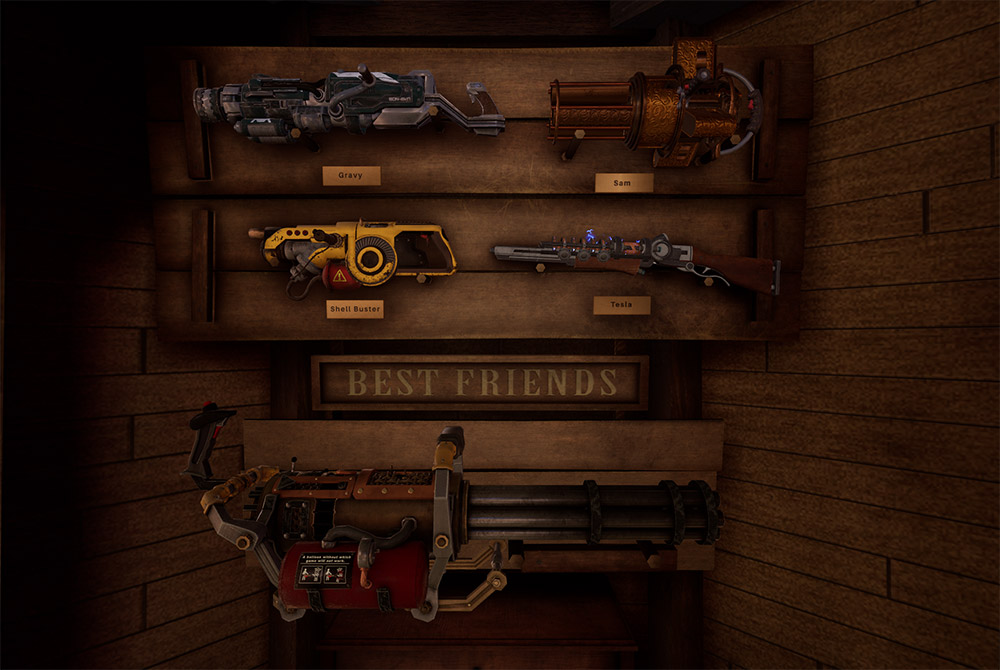 The bosses in Guns 'n' Stories: Bulletproof are pretty unique – tell us your favorites.
I don't want to spoil it for you too much… I'll just say that every one of the three types of bosses has their own mechanic and storyline. You will see disgusting Big Joe, rolling on his Segway on the Wild West desert:
Casper & Jasper that will double your problems – and Harry, who can accidentally step on you or throw something at you:

Are you planning to update Guns 'n' Stories: Bulletproof in the future?
Yes, definitely. I can say that in our upcoming updates we will add localizations for many languages, fixing any existing problems and upgrading levels for the first act so that they will be more dynamic and exciting.
Also if you didn't know we have Guns 'n' Stories: Preface – it's a free game (also on Viveport!) in which you can get introduced to the main game and decide if you'll like it or not. We are planning a huge update for Preface because at that moment in our opinion it doesn't fully acquaint you with the world of Guns 'n' Stories. So we want to add some more levels and embellish that with more diversity and fun.
What else is Mirowin working on? What's next for the studio?
We have several projects right now. Our team constantly working on updating and supporting Guns 'n' Stories: Bulletproof.
The next project that we already working with will be a game in sci-fi setting with free locomotion, deep story and a wide variety of actions – here's a sneak peek of some imagery!
As for the studio, we are going to go deeper into VR, continue to create games for VR and make our players happier!
Thank you so much for answering our questions, Artyom!
---
Guns 'n' Stories: Bulletproof is available on Viveport and in Viveport Subscription. Guns 'n' Stories: Preface is also available on Viveport.