First 10 Hours of Adventures with VIVE Flow
After dipping your toes into VIVE Flow's meditation content, let's continue the journey with some whimsical adventures! Here are some fascinating experiences we recommend you to try with Flow: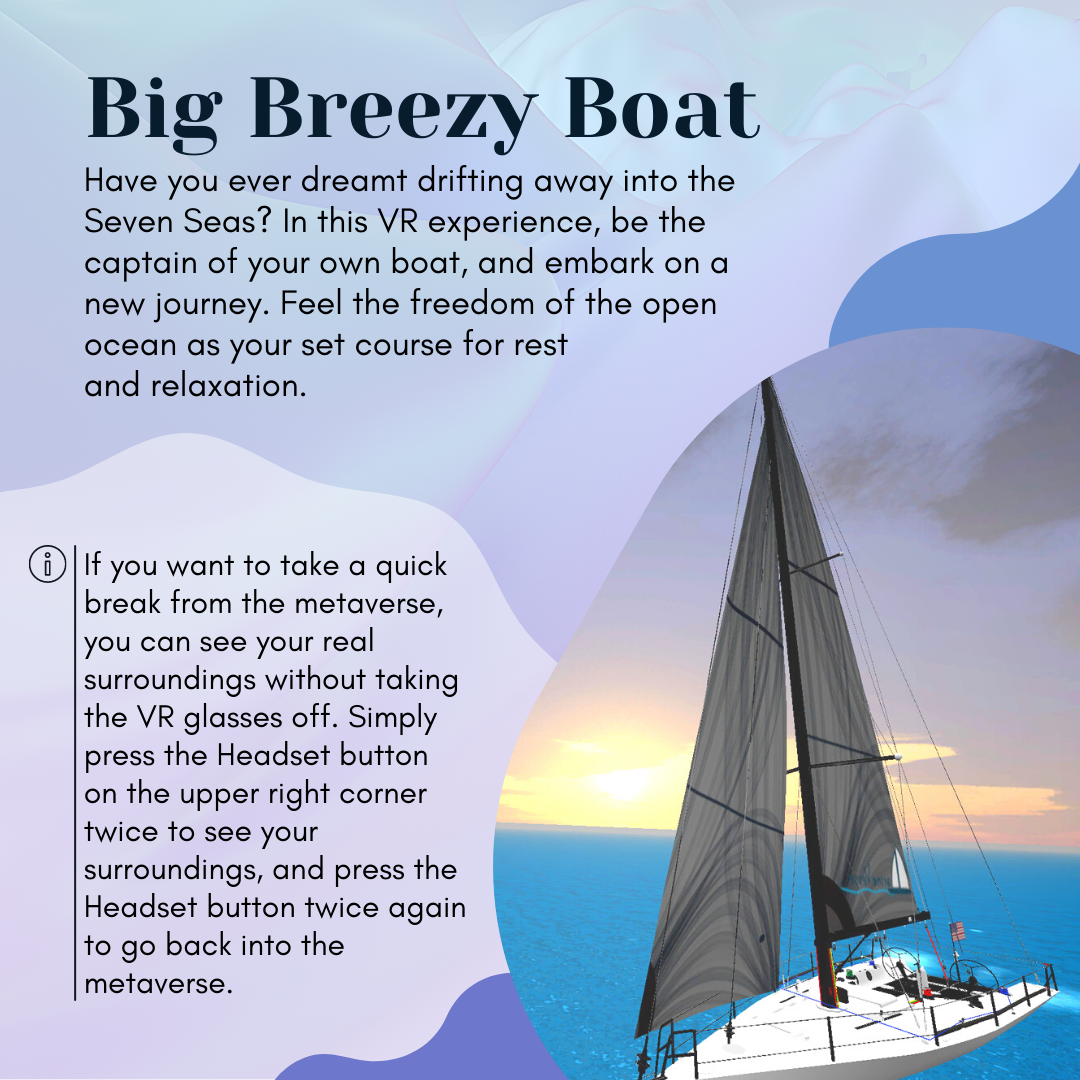 Big Breezy Boat
Have you ever dreamt of drifting away into the Seven Seas? In this VR experience, be the captain of your own boat, and embark on a new journey. Feel the freedom of the open ocean as your set course for rest and relaxation.
*If you want to take a quick break from the metaverse, you can see your real surroundings without taking the VR glasses off. Simply press the Headset button on the upper right corner twice to see your surroundings, and press the Headset button twice again to go back into the metaverse.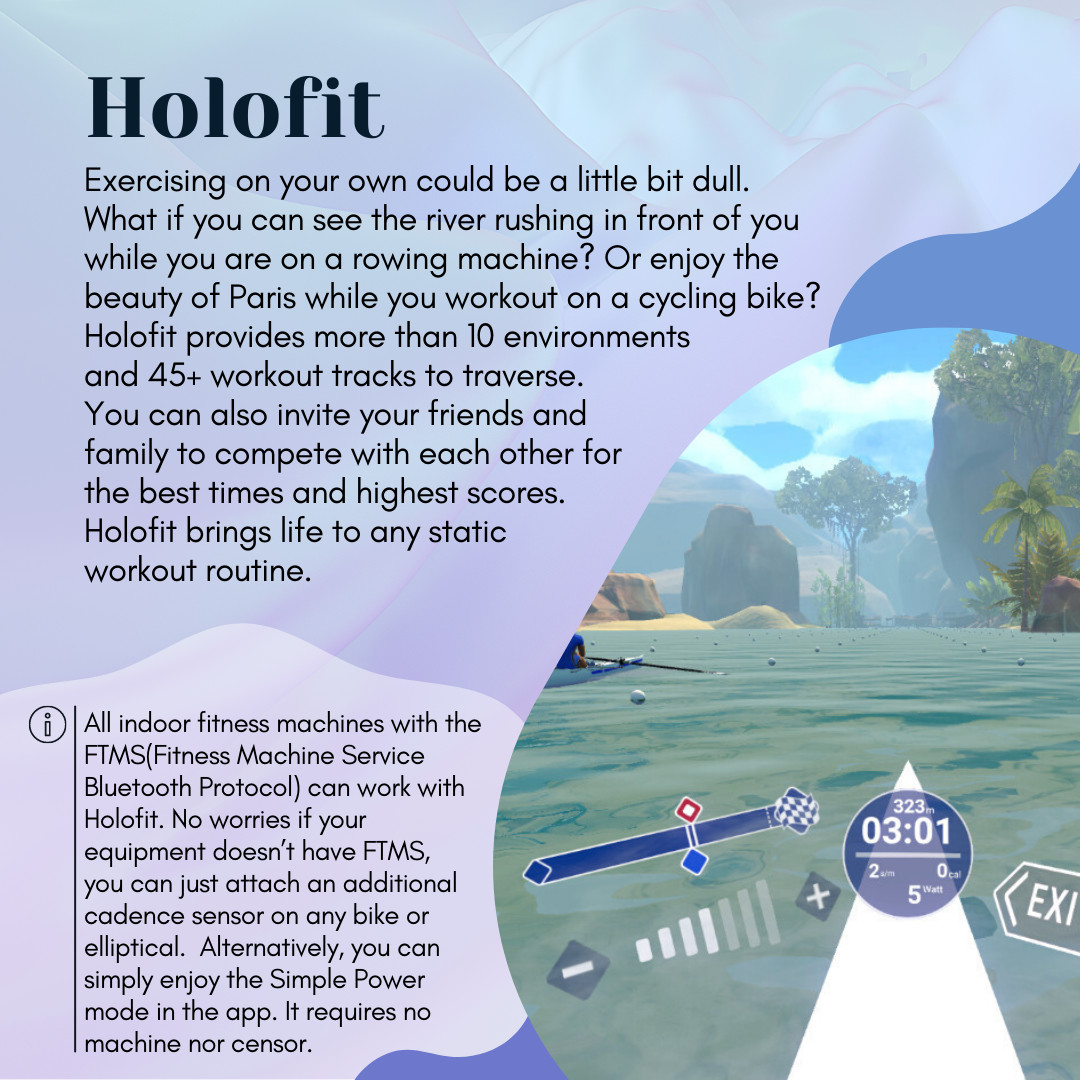 Holofit
Exercising on your own could be a little bit dull. What if you can see the river rushing in front of you while you are on a rowing machine? Or enjoy the beauty of Paris while you workout on a cycling bike? Holofit provides more than 10 environments and 45+ workout tracks to traverse. You can also invite your friends and family to compete with each other for the best times and highest scores. Holofit brings life to any static workout routine.
*All indoor fitness machines with the FTMS(Fitness Machine Service Bluetooth Protocol) can work with Holofit. No worries if your equipment doesn't have FTMS, you can just attach an additional cadence sensor on any bike or elliptical. Alternatively, you can simply enjoy the Simple Power mode in the app. It requires no machine nor censor.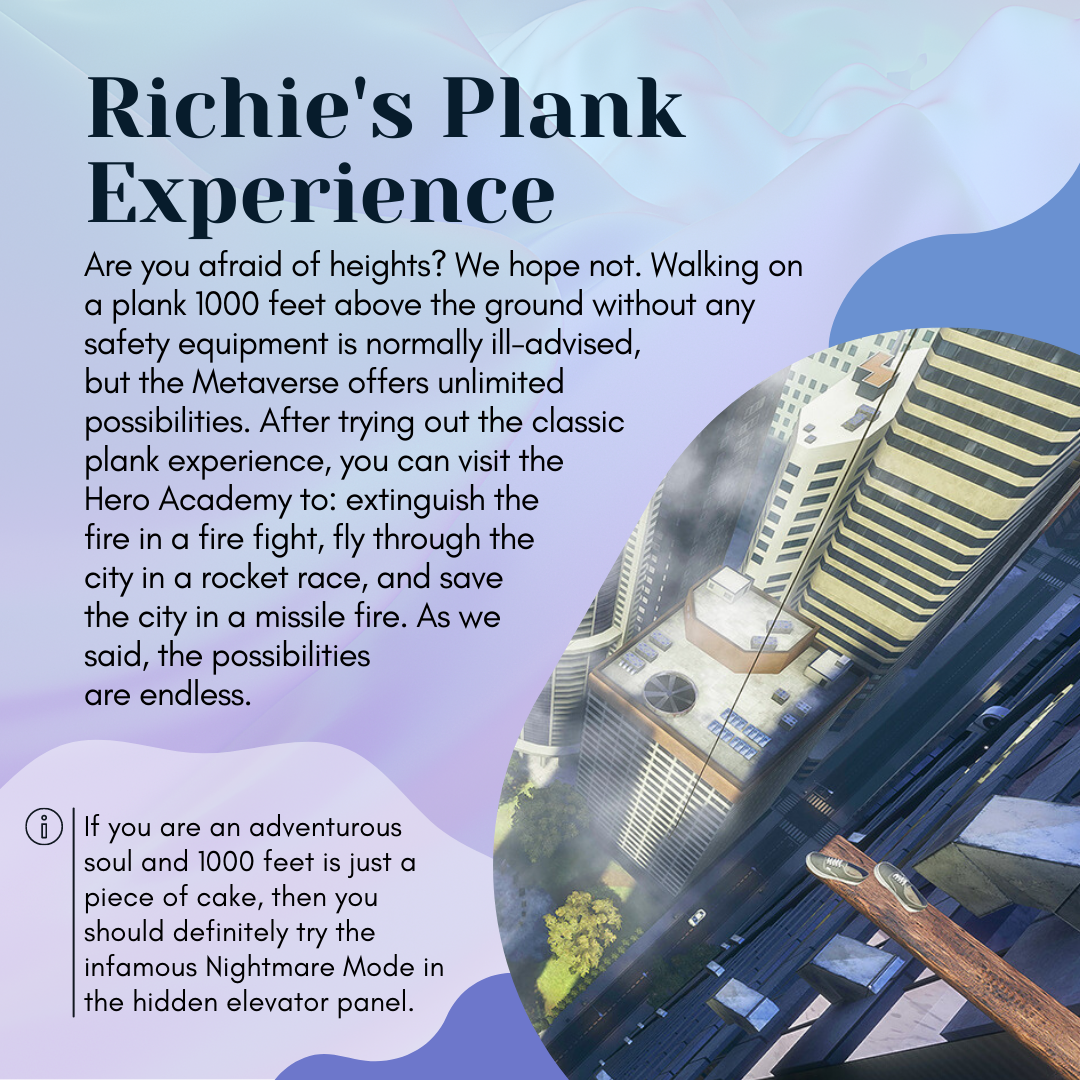 Richie's Plank Experience
Are you afraid of heights? We hope not. Walking on a plank 1000 feet above the ground without any safety equipment is normally ill-advised, but the Metaverse offers unlimited possibilities. After trying out the classic plank experience, you can visit the Hero Academy to: extinguish the fire in a fire fight, fly through the city in a rocket race, and save the city in a missile fire. As we said, the possibilities are endless.
*If you are an adventurous soul and 1000 feet is just a piece of cake, then you should definitely try the infamous Nightmare Mode in the hidden elevator panel.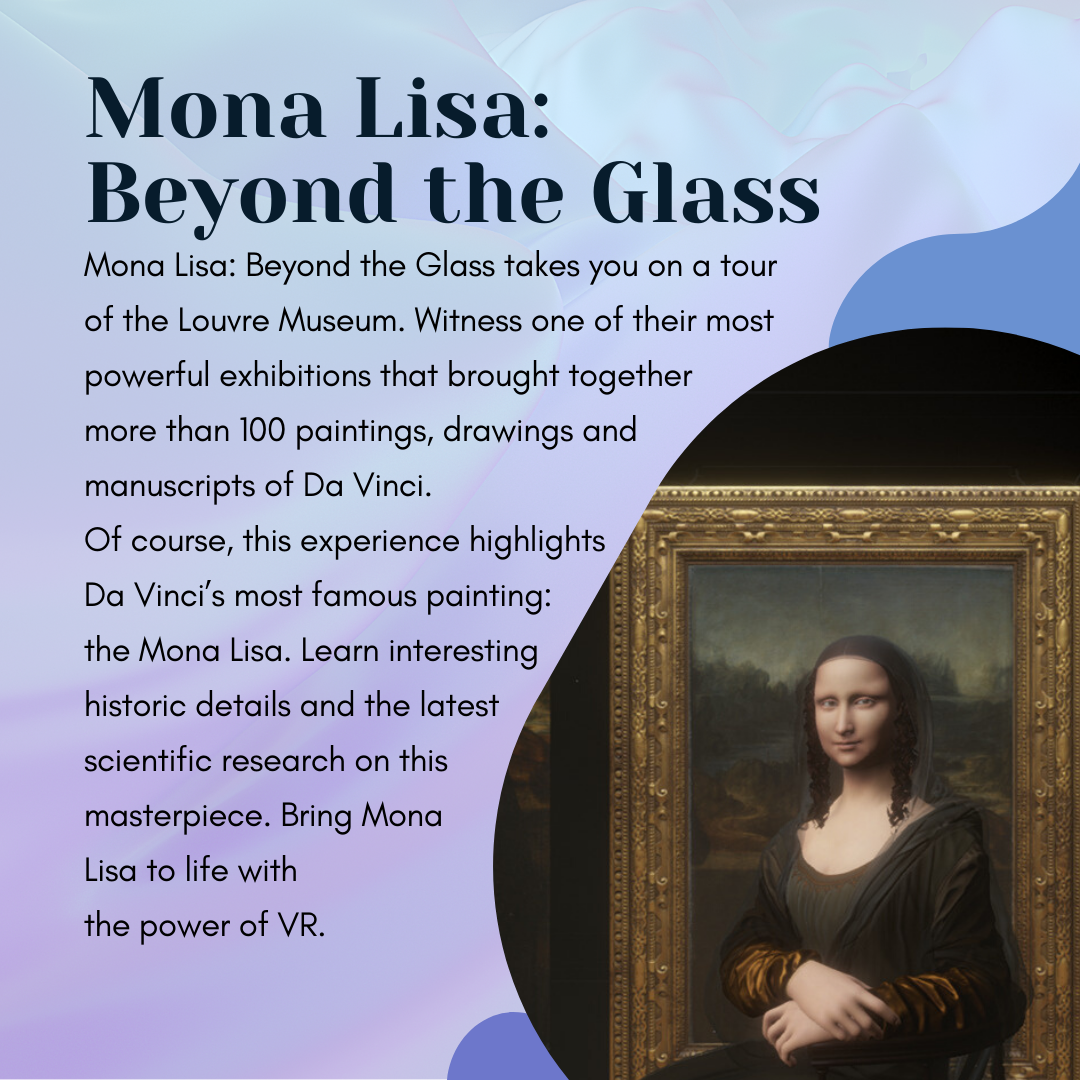 Mona Lisa: Beyond the Glass
Mona Lisa: Beyond the Glass takes you on a tour of the Louvre Museum. Witness one of their most powerful exhibitions that brought together more than 100 paintings, drawings and manuscripts of Da Vinci. Of course, this experience highlights Da Vinci's most famous painting: the Mona Lisa. Learn interesting historic details and the latest scientific research on this masterpiece. Bring Mona Lisa to life with the power of VR.
*If you're admiring these masterpieces brought to life in transit, remember to turn on passenger mode to always stay at the right angle. Simply press and hold the Headset button on the upper right corner, and use your gaze to select the option to turn on passenger mode. You can turn it off with the same process.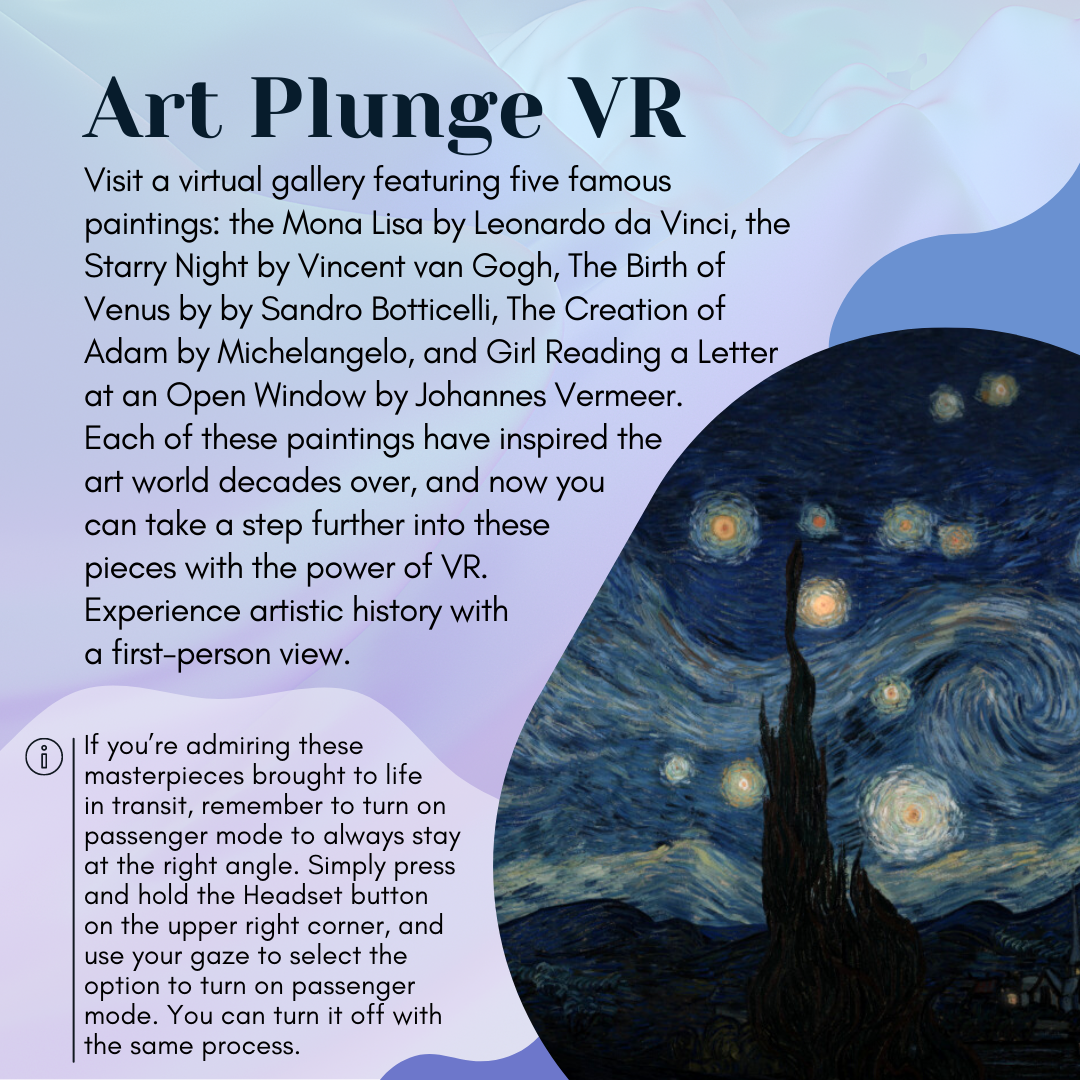 Art Plunge VR
Visit a virtual gallery featuring five famous paintings: the Mona Lisa by Leonardo da Vinci, the Starry Night by Vincent van Gogh, The Birth of Venus by by Sandro Botticelli, The Creation of Adam by Michelangelo, and Girl Reading a Letter at an Open Window by Johannes Vermeer. Each of these paintings have inspired the art world decades over, and now you can take a step further into these pieces with the power of VR. Experience artistic history with a first-person view.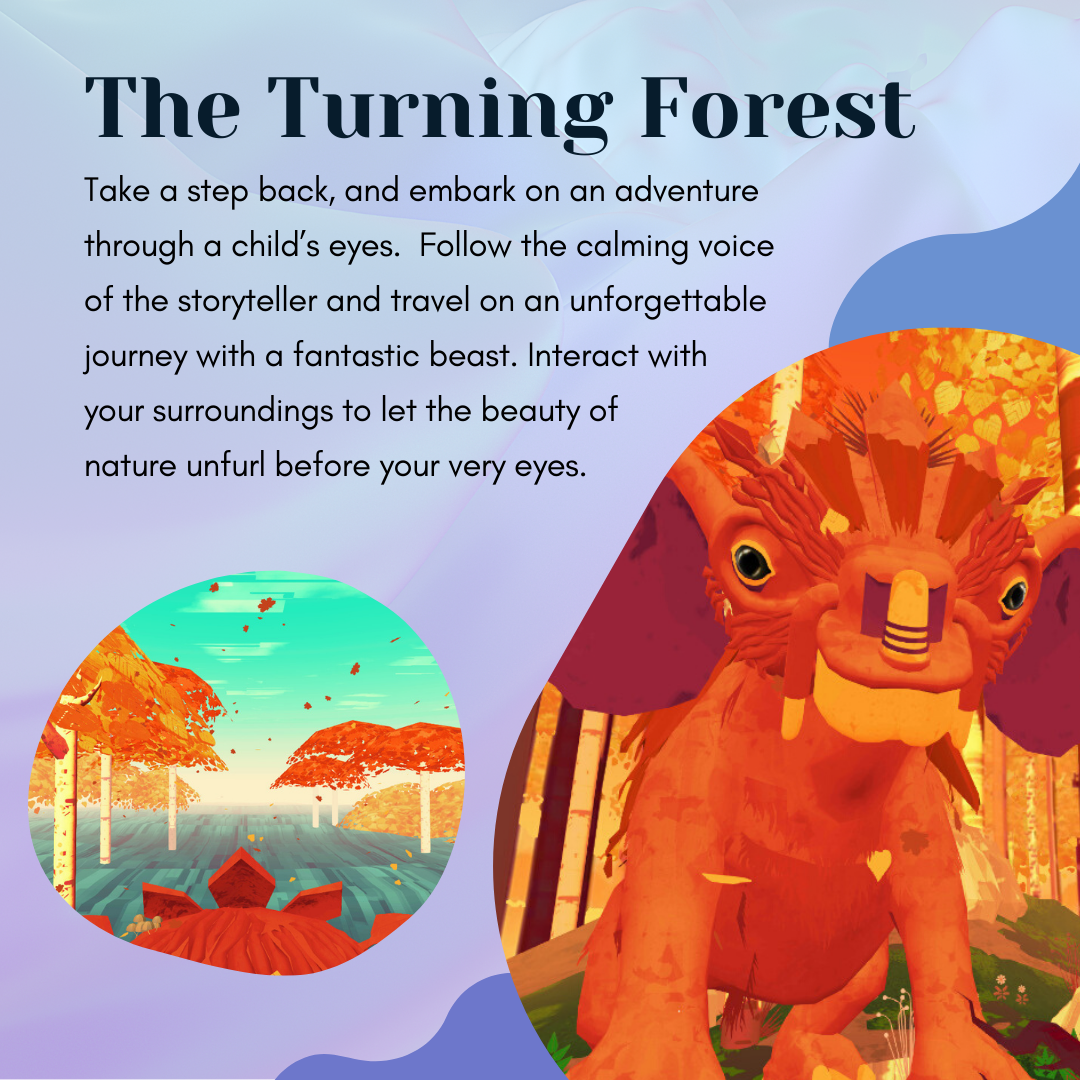 The Turning Forest
Take a step back, and embark on an adventure through a child's eyes. Follow the calming voice of the storyteller and travel on an unforgettable journey with a fantastic beast. Interact with your surroundings to let the beauty of nature unfurl before your very eyes.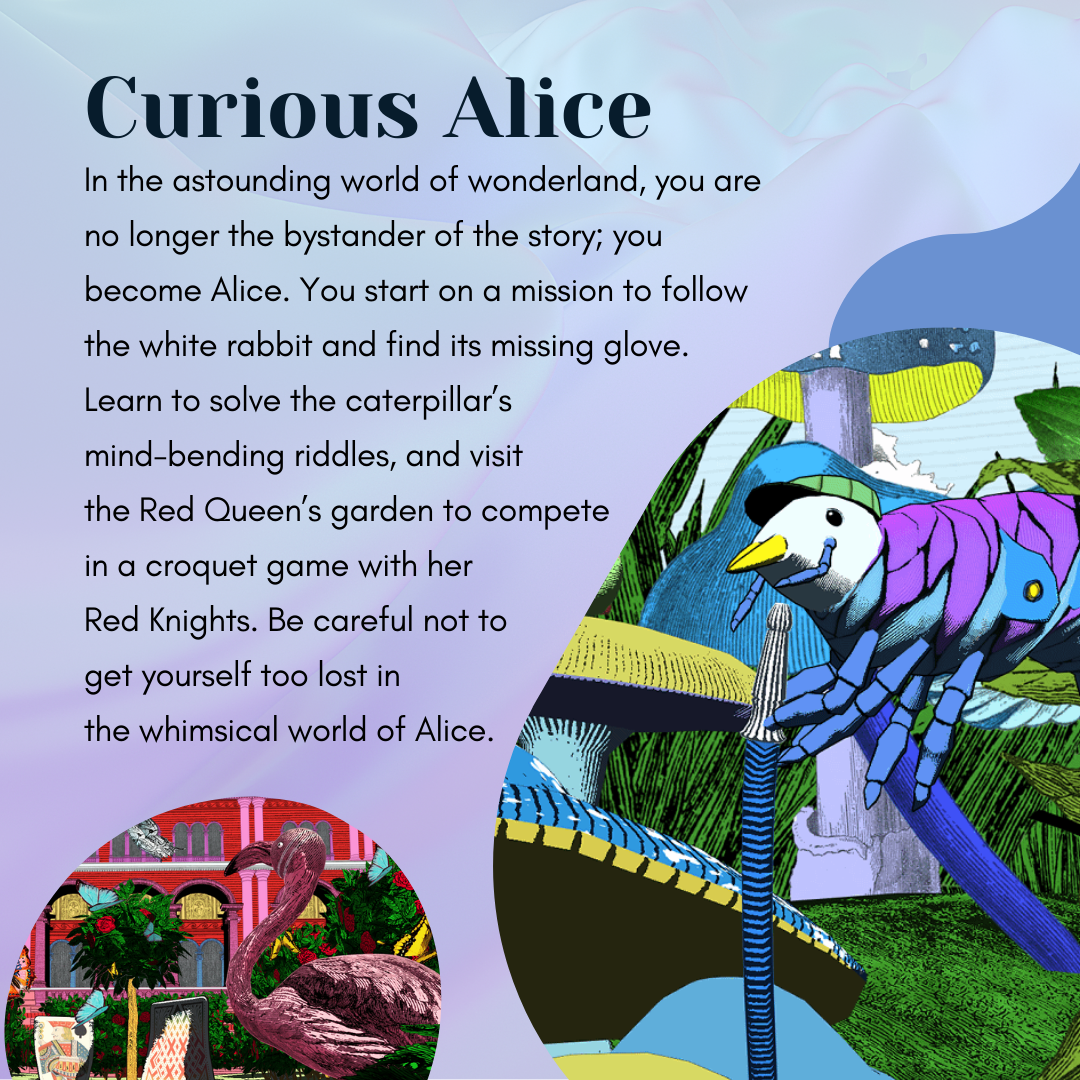 Curious Alice
In the astounding world of wonderland, you are no longer the bystander of the story; you become Alice. You start on a mission to follow the white rabbit and find its missing glove. Learn to solve the caterpillar's mind-bending riddles, and visit the Red Queen's garden to compete in a croquet game with her Red Knights. Be careful not to get yourself too lost in the whimsical world of Alice.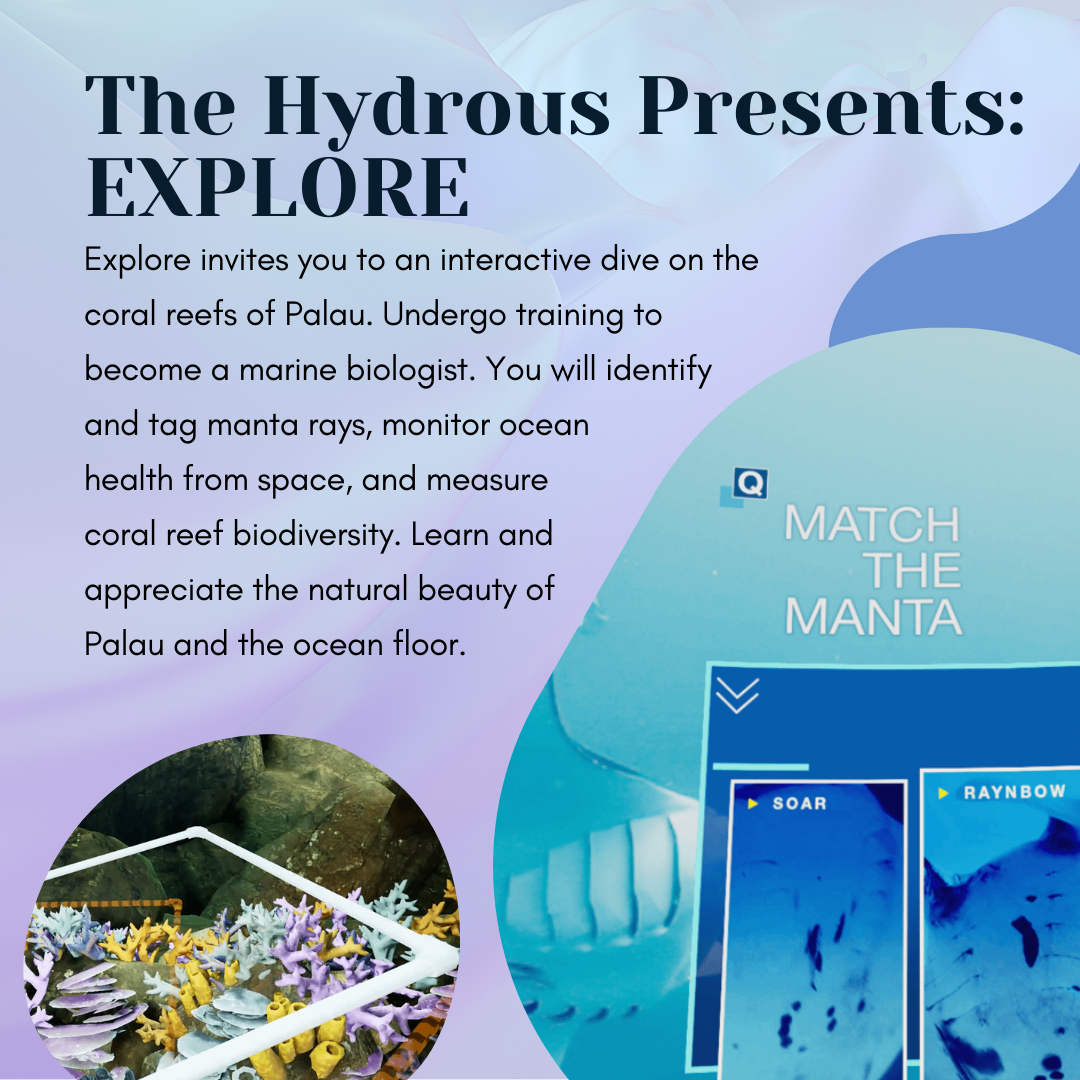 The Hydrous Presents: EXPLORE
Explore invites you to an interactive dive on the coral reefs of Palau. Undergo training to become a marine biologist. You will identify and tag manta rays, monitor ocean health from space, and measure coral reef biodiversity. Learn and appreciate the natural beauty of Palau and the ocean floor.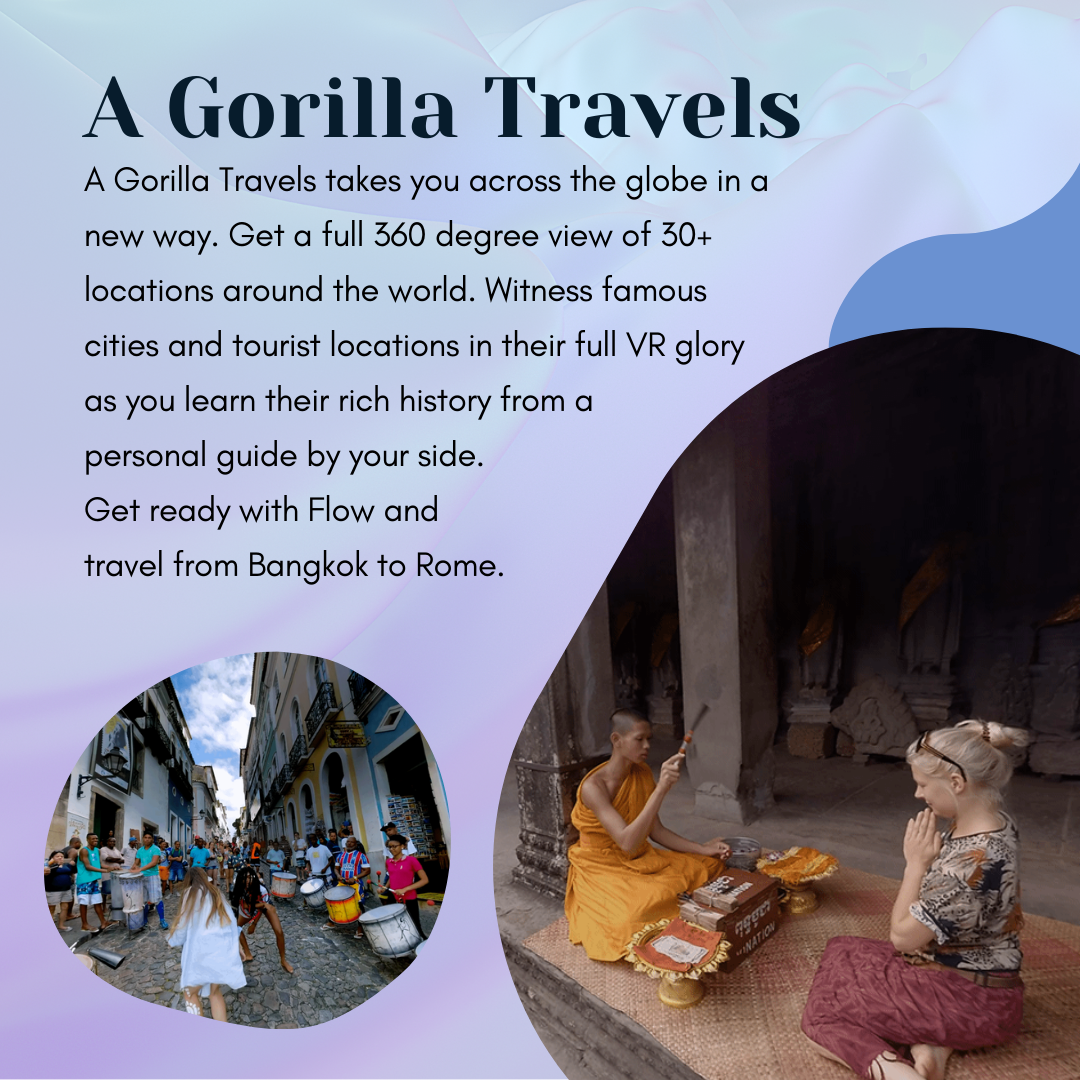 A Gorilla Travels
A Gorilla Travels takes you across the globe in a new way. Get a full 360 degree view of 30+ locations around the world. Witness famous cities and tourist locations in their full VR glory as you learn their rich history from a personal guide by your side. Get ready with Flow and travel from Bangkok to Rome.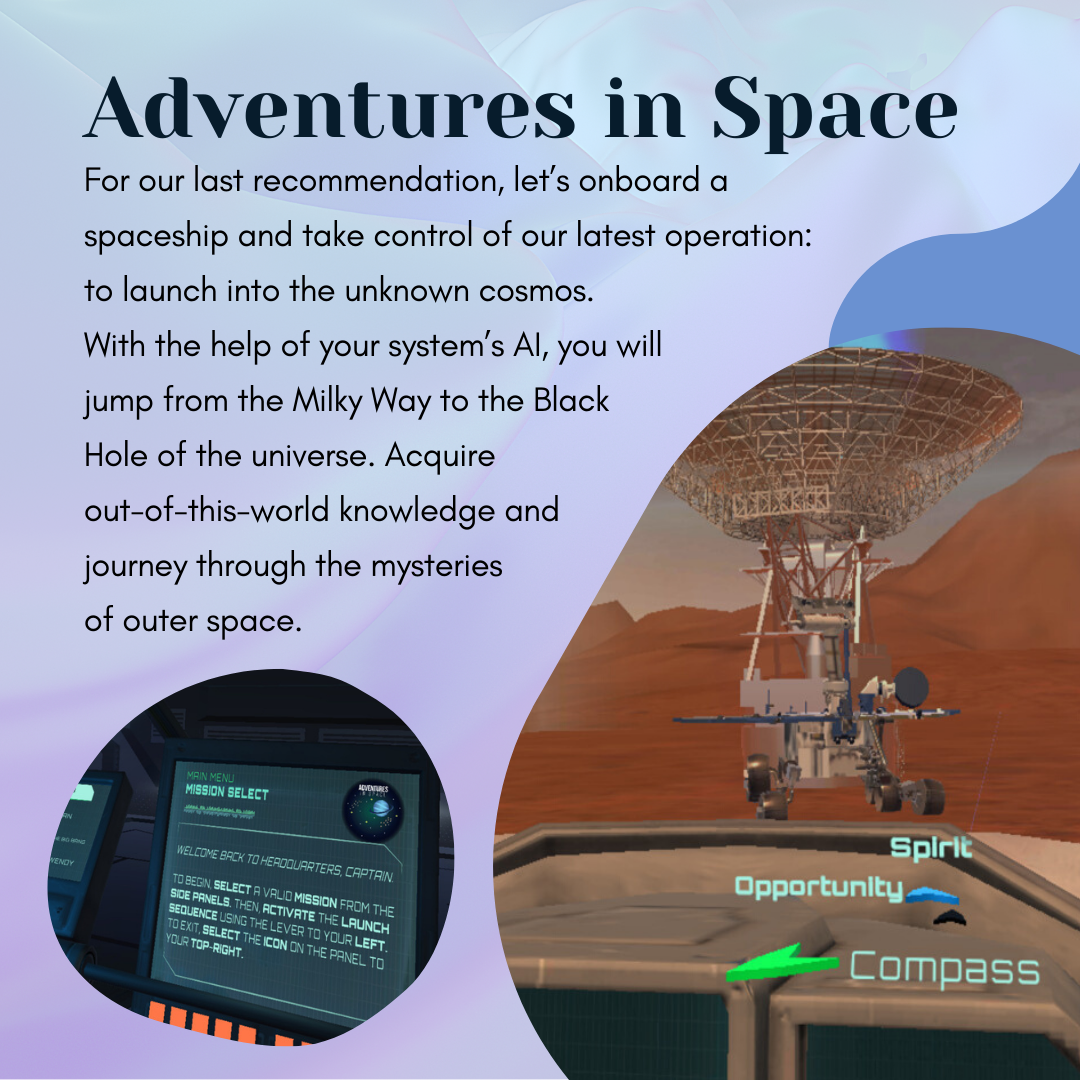 Adventures in Space
For our last recommendation, let's onboard a spaceship and take control of our latest operation: to launch into the unknown cosmos. With the help of your system's AI, you will jump from the Milky Way to the Black Hole of the universe. Acquire out-of-this-world knowledge and journey through the mysteries of outer space.
From the deep blue ocean to the vast vacuum of outer space, we've shown you that Flow can truly take you anywhere with ease. Whether you're traveling through famous cities or experiencing world-changing art exhibits, VIVE Flow offers a truly transformative experience in a compact system. Visit viveport.com to discover more adventures available on VIVE Flow.
Learn more about VIVE Flow.
Follow us on Twitter to get our latest updates on new products, sales, events, and more.
---