The Best VR Headsets in 2022 | Your Guide to Virtual Reality
The Best VR Headsets for 

2022

 
Virtual reality has undoubtedly taken off in recent years, with more and more people looking for VR headsets or immersive VR glasses to enjoy the rapidly growing number of virtual reality games, to meet up remotely, and to explore the metaverse for themselves.
But with so many devices on the market, choosing the best VR headset can be a challenge. A standalone VR headset is very different from a PC VR headset with tethers, after all, and neither is quite as portable as a pair of VR glasses. How can you determine which virtual reality device best meets your needs? Luckily, we've done all the research for you! Here is our ultimate guide to the best VR headsets available in 2022.
Immersive 

VR

 Glasses
Immersive VR glasses, sometimes also referred to as VR goggles, are an easy way to temporarily escape from reality and enter a world that will delight your senses. Ideal for meditation, exploration, and relaxation, virtual reality glasses are lighter and more portable than typical virtual reality headsets. So which pair do we recommend?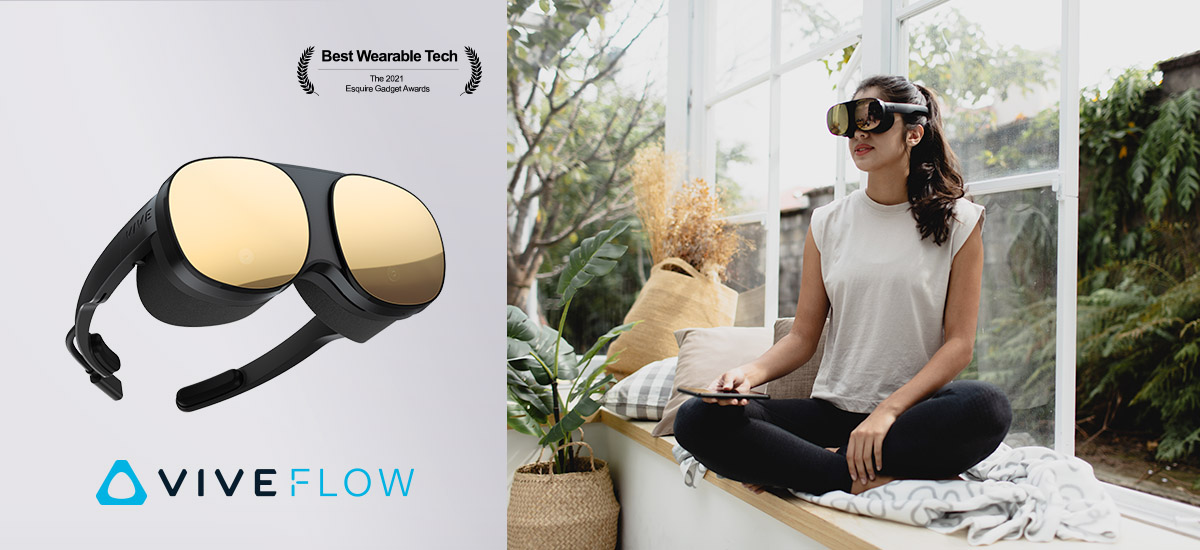 VIVE Flow
If you're looking for the best VR glasses in 2022, look no further than the VIVE Flow. As the latest VIVE product from HTC and the first-of-its-kind phone-based VR device, VIVE Flow offers quality immersion with unparalleled form factor. It's packed with features to make your VR experience fun and interactive, including a 100-degree field of view, high-resolution display, speakers with spatial audio, and noise-cancelling microphones.
As a foldable pair of VR glasses, VIVE Flow can be taken and used almost anywhere. Try cultivating mindfulness through virtual meditation in your living room, meet with business clients in a VR conference hall, or take a journey across the metaverse with family and friends.
VIVE Flow is easy to wear and features a one-size fit that accommodates most head shapes and sizes. You can increase your level of comfort with its snap-on face cushion and adjustable lens focus, and if you're worried about getting hot wearing a standard VR headset, you'll be surprisingly pleased with VIVE Flow's lightweight design and built-in cooling system.
Pair VIVE Flow with your 5G Android smartphone via Bluetooth to use your mobile device as a VR controller. No gaming PC, VR base stations, or other controllers needed!
And as a bonus, VIVE Flow was carefully crafted to improve the user's mental wellbeing. It's perfect for stimulating your mind, enhancing your creativity, and creating a safe virtual space where you can truly relax. Use virtual reality to enjoy a moment to yourself or to boost your productivity!
Best for: New VR users, students, on-the-go professionals, and people who just need a break.
Cost: USD 499.00
All-in-one 

VR Headsets
Also known as standalone VR, all-in-one VR headsets don't rely on a PC connection for processing power, nor do they use any external sensors to track your movement. With no cables or tethers to worry about, you'll find everything you need for a superior VR experience built right into the headset. It's true wireless VR!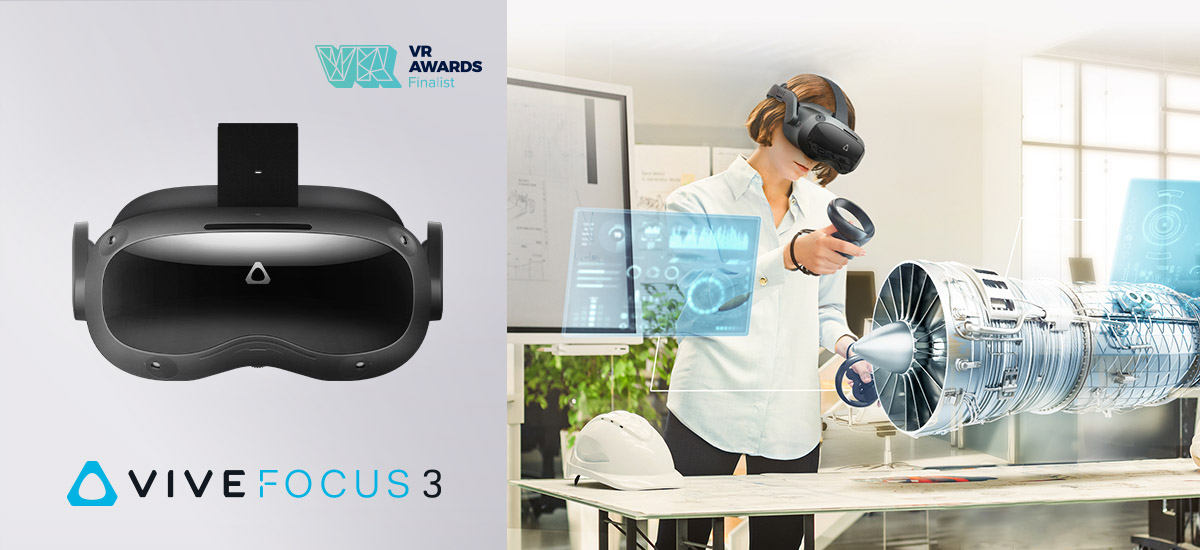 VIVE Focus 3
Our pick for best all-in-one VR headset goes to the VIVE Focus 3. As a standalone VR device that has been optimized for remote collaboration, creative visualization, and diverse training experiences, the VIVE Focus 3 revolutionizes the way people learn and work.
What makes this VR headset so special is the power and freedom it offers in an ergonomic form. The VIVE Focus 3 boasts an impressive display with a 5k resolution, 120° FOV, and 90 Hz refresh rate. It delivers 3D audio through speakers designed to minimize sound leakage, making it ideal for private business conversations in the metaverse.
While the comfortable VR controllers that VIVE Focus 3 comes with offer 6 degrees of freedom (6DoF) and up to 15 hours of battery life, this unique VR headset also supports a controller-free mode thanks to built-in hand tracking. That means you can use your bare hands to conduct meetings, hone skills in VR simulations, and type on a virtual keyboard while you work from home (WFH).
The possibilities provided by the VIVE Focus 3 are endless. Are you looking to work remotely on a full-time basis? Let VIVE Focus 3 become your virtual office. Or perhaps you would like to set up a remote business and provide your staff WFH opportunities? Stay connected in virtual reality!
The VIVE Focus 3 also paves the way forward for a more effective form of professional development. This device enables virtual training for professionals who work in high-risk or life-threatening environments through hyper-realistic, responsive simulations.
Best for: Remote workers, digital nomads, industry leaders, and business owners
Cost: USD 1,300.00
PC VR Headsets
PC VR, sometimes called desktop VR, is the term given to VR headsets that require tethers to a high-end computer with a powerful graphics card to run on, and this category includes the original HTC VIVE. While their necessary connection to a PC might sound restrictive, these VR headsets also give users the opportunity to explore and experience virtual reality with the highest possible level of immersion. So, which is the best PC VR headset for your 2022 metaverse adventure?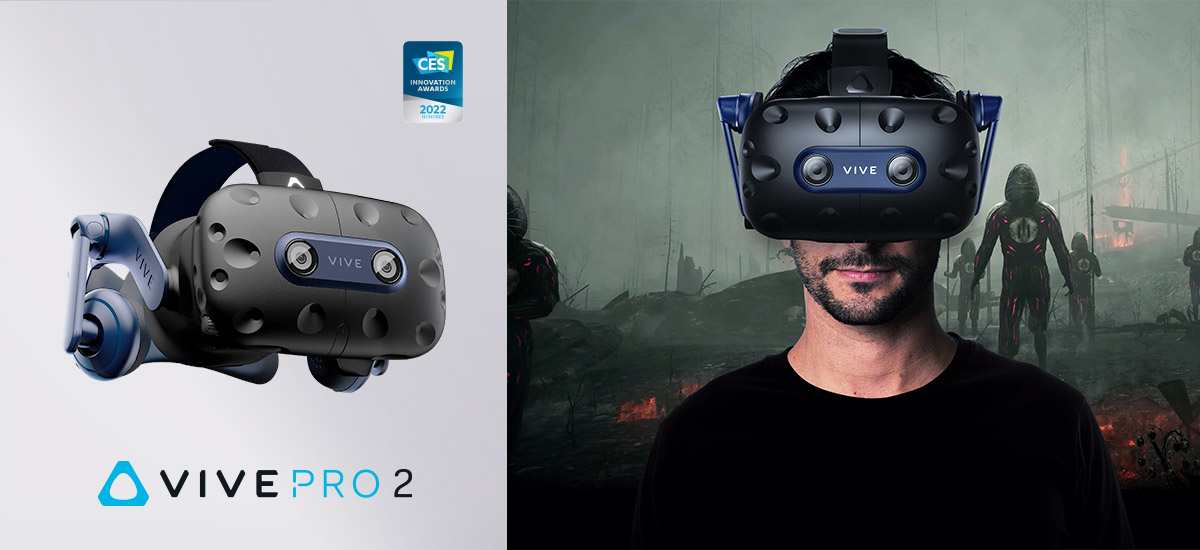 VIVE Pro 2
Named Best VR Headset of 2021 by Gamesradar and considered by many to be VIVE's most advanced PC VR experience available, the VIVE Pro 2 is ideal for both professionals and virtual reality enthusiasts alike.
The display alone is exceptional with a 120° FOV, a refresh rate of up to 120 Hz, and the highest resolution of any VIVE PC VR headset: 2,448 by 2,448 pixels per eye. Top that off with an adjustable interpupillary distance, Hi-Res headphones, and room-scale tracking, and the result is an immersive experience like no other.
Bring prototypes to life in high definition thanks to VIVE Pro 2's incredible performance and integration with software like Unreal Engine. This is the best VR headset for creative professionals interested in 3D design and storytelling, as well as for agencies who wish to build visual walkthroughs for clients and investors.
Best for: VR artists, 3D designers, and other skilled professionals.
Cost: USD 1,399.00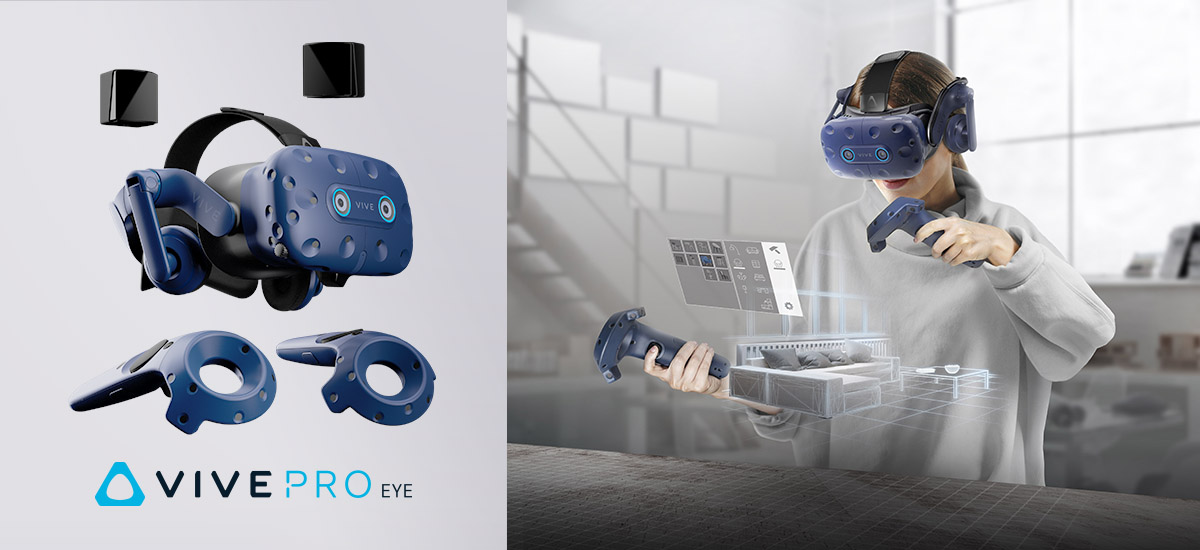 VIVE Pro Eye
Designed for studio professionals, home office workers, and VR users that require hyper realistic immersion, VIVE Pro Eye takes virtual reality to the next level with built-in eye-tracking. By being able to register and interpret the wearer's eye movement, this VR headset allows app developers to create metaverse experiences and VR apps that provide real-time feedback to users.
What kind of feedback? Let's say you want to improve your public speaking skills. You can use the VIVE Pro Eye to understand where your focus is while speaking. It can show you whether you're giving equal attention to both sides of a room of people or if you appear shy because you're looking down too often.
This eye-tracking technology also helps VR developers provide users with a more optimized virtual reality experience – since the dual-OLED display can appear in high-definition only where users are looking at any given time, unused computing resources can be devoted elsewhere.
You can even get full-body tracking in VR to replicate your limb movements by pairing VIVE Pro Eye with wearable VIVE Trackers.
Best for: Developers, filmmakers, industry leaders, creators, and other professionals.
Cost: USD 1,399.00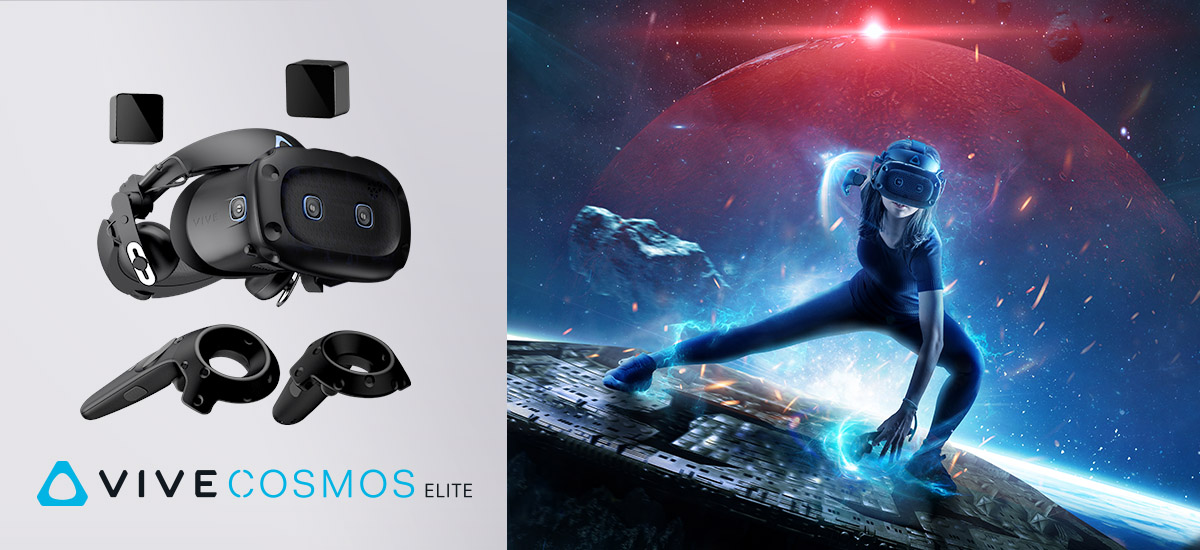 VIVE Cosmos Elite
For those who primarily want a high-quality VR gaming experience, the VIVE Cosmos Elite is the best VR headset on the market, striking a balance between power and practicality, control and convenience.
The VIVE Cosmos Elite boasts crisp visuals with a 110° FOV, 90 Hz refresh rate, and combined 2880 x 1700 pixel resolution. It also includes attached headphones with rich stereo audio to keep you audibly immersed in virtual reality.
This VR headset's unique characteristic, however, is the faceplate at its front, which can be flipped up at any time for a quick view of the real world. The default faceplate can actually be swapped out to switch between SteamVR outside-in tracking (which relies on VR base stations) and 6DoF inside-out tracking (which uses cameras to calculate your position – no base stations needed).
The option of using internal or external tracking makes the VIVE Cosmos Elite a must-have for PC VR gamers. With a huge library of VR games available through VIVEPORT Infinity, you can enjoy the convenience of entering countless virtual worlds and exploring to your heart's content. This VR headset is also easy to clean and fits snugly on the crown of the head, making it suitable for long periods of virtual reality gaming.
Best for: PCVR gamers
Cost: USD 899.00
Compare VR Headsets
Still not sure which VR headset to get? Use this online tool to compare the features of the VIVE Flow, VIVE Focus 3, VIVE Pro 2, VIVE Pro Eye, and VIVE Cosmos Elite.
Discover Virtual Reality Today
Whether you're hoping to find your place in the metaverse, impress clients and business partners with a stunning VR experience, or remotely bring together people, VIVE has a wide range of VR headsets available that can help you achieve your unique goals.
You can take a mental health break with a pair of immersive VR glasses like VIVE Flow or work from home with a standalone VR headset like VIVE Focus 3. If you don't mind tethers, you can use a PC VR headset like VIVE Pro 2 or VIVE VIVE Pro Eye to create 3D assets and virtual reality experiences. And if you're a gamer looking for the best deal in VR gaming, the VIVE Cosmos Elite is the best VR headset for you.
We hope you've enjoyed this guide from HTC to the best VR headsets in 2022.
---